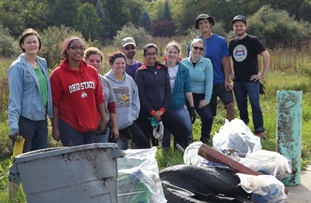 Clean Your Streams Was A Huge Success and We Owe It All to You!
We cannot thank our volunteers enough for their efforts in making OUR streams clean! The PCS Staff and CYS Planning Team are incredibly happy with the results of the 18th Annual Clean Your Streams Day, which would have been unreachable without your support! 1,109 volunteers participated in Clean Your Streams this year as a part of the International Coastal Cleanup and Ohio's Coastweeks program.
Volunteers dispersed from 7 kickoff locations and removed trash along over 27 miles along the Swan Creek, the Ottawa River, the Maumee River, and creeks and ditches flowing into Maumee Bay and Lake Erie. 16,978 pounds of trash were collected, including 926.5 bags, 126 tires, and many larger pieces of garbage. The list of weird finds is endless! For example, volunteers found a brand new Hot Wheel toy, nylons, a worn out $5 bill, purple velvet cape, Confederate flag, fire crackers, a butter knife, 1988 Faygo Ginger Ale can, Christmas lights, lottery cards, kiddie pools and a vending machine door and much more. Once volunteers were done pulling trash and themselves out of the rivers, volunteers celebrated cleaner, clearer, and safer waters with an Appreciation Picnic at the Lucas County Fairgrounds. There, volunteers were thanked with a lunch, t-shirt, educational activities, door prizes and much more.
Congratulations again to the winners of the CYS Challenge Awards! These self-reported challenges encourage friendly competition between volunteer groups, as well as inspire volunteers to make the largest possible impact on our streams. Check out this list of the dedicated winners.
Each and every individual who participated in this year's Clean Your Streams Day is a Partner and we cannot express our gratitude for your support. Whether you participated individually or with a group, business, or organization, your involvement is essential for cleaner rivers and we thank you! We look forward to maintaining that partnership in the future. Please do not forget to send us your pictures! You can email them to This email address is being protected from spambots. You need JavaScript enabled to view it., upload them to our Clean Your Streams Facebook page, or Tweet them using #CYS18.
A tremendous thank you goes out to the CYS18 Planning Team, which includes Marilyn DuFour, Patrick Lawrence, Brian Miller, Bob Neubert, Matt Beil, Robin Parker, Andrea Beard, Don Nelson, Bill Buri, Cherie Blair, Terry Shankland, and the PCS Staff. Thank you again to our extremely supportive donors. See the complete list of supportive donors on our website.
We cannot wait to see everyone in 2015 for the 19th Annual Clean Your Streams!