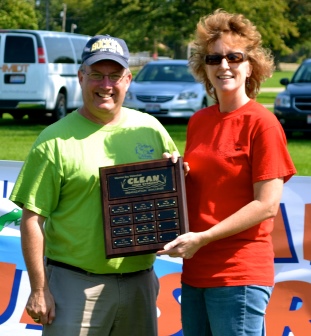 It is that time of year again to round up the troops and promote clean, clear, and safe waters in your local community. Clean Your Streams (CYS) is bigger and better than ever, celebrating its 19th year of successfully removing debris from streams, river banks, and watersheds in Toledo and surrounding areas. And we strive to recognize Corporate, Collegiate, Youth, and Organizational groups that work hard and make a difference!
Although CYS is an exciting and gratifying event in itself, our most productive cleanup groups have the opportunity to win up to three different Challenge Competition Awards. The friendly competitions between Youth, Collegiate, Corporate, and Organizational groups is a fun way to motivate all volunteers in making the largest positive impact possible on our waterways. During the cleanup, participating volunteer groups will keep track of how many bags they fill on a challenge form, which is then submitted at the end of the event to determine Challenge winners.
Youth, Collegiate, Corporate and Organizational groups all have the chance of winning awards including Battle of the Bags, Awesome Effort, and Most Volunteers. Battle of the Bags winners are dependent upon the total number of bags your group collects throughout the cleanup, whereas Awesome Effort winners are determined by the most bags per person for each group. Challenge winners for the Most Volunteers competition are those groups with the most volunteers (and you need to complete your entry form).
Change for Change is yet another opportunity for your CYS group to benefit our local rivers and streams. Start collecting your teams' loose pocket change now and bring it with you to the Appreciation Picnic after the cleanup for a weigh-in. Dump your piggy bank, pick up that penny on the street corner, and empty those car cup holders! The group with the heaviest combined amount of change will win the Change for Change Challenge and receive a Mystery Award.
As the number of CYS volunteers grows each year, so does the positive influence we have on our local streams, river banks, and watersheds. Last year, 1,109 volunteers participated in the 18th Annual Clean Your Streams. We want to blow this number out of the water this year! The more friends, family members, and colleagues you encourage to join CYS, the bigger impact we will have on our waterways. Help us promote the vitality of clean waterways in the Toledo area by registering for Clean Your Streams right now!