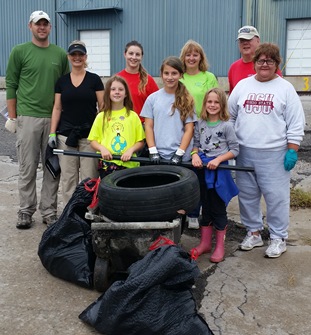 Each year, we say "This year's event was the best!" but this time, we mean it! While we are still tallying numbers and counting forms, we know we had 971 volunteers step up and clean amazing amounts of trash from 68 sites around the Toledo area from ditches, streams and rivers. 772 bags and 13,528 pounds of trash were hauled from 33.9 miles of streams and rivers. Regardless of the numbers (which are impressive), the passion and excitement was overwhelmingly positive and infectious. Despite sprinkles of rain, volunteers took the initiative to get all the trash they could, including many "weird items." Here are just a few: shopping carts, 97 baseballs, coconuts, power drill, watch, sled, wheel barrel, hub caps, duck decoys, a Bible, pack of bullets and a wig.
To make your impact even bigger, DONATE NOW to help events like this continue to be a success, bringing people closer to their rivers. This program could not have been a success without our generous partners and donors. Special thanks go to Deets BBQ, Charles Boyk Law and GreenSweep for sponsoring lunch at the Picnic. Also, thank you to our major sponsors: First Solar, Johnson Controls, City of Toledo, Perstorp, University of Toledo, BP Husky Refining, Lucas County Storm Water Utility and BCSN. To see the full list of donors, check out our Sponsors Page. To share your story about Clean Your Streams, please send your pictures and thoughts to This email address is being protected from spambots. You need JavaScript enabled to view it. or share via social media with Twitter and Instagram (@PCSMaumee) and Facebook using the hashtag #CleanYourStreams419. Here are some of our favorite pictures, many of which came from our volunteers.
Thank you again to all the volunteers, partners and sponsors who helped make the cleanup a success. Donate now to make sure this is not the last Clean Your Streams!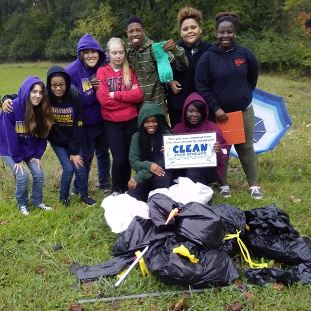 NOAA's Marine Debris Program is excited to announce the first annual Marine Debris Challenge for high school students in Ohio's Ninth Congressional District! The contest is open to all students in grades 9-12 who are enrolled in recognized public, private, and home schools in Ohio Congressional District 9. Students must work in groups of 3 to 30 to create a public service announcement to help raise awareness of marine debris. Prizes include a trip to Cedar Point, a field trip to Stone Lab, and more! To learn more about the contest, visit: http://marinedebris.noaa.gov/outreach/communicating-clean-future-ohio-congressional-district-9-marine-debris-challenge.
Communication is key when reaching people about the issue of Marine Debris. Who better to communicate that then the youth of our nation? The timing of this announcement is perfect for groups that just participated in Clean Your Streams as they can use their firsthand experience of collecting trash for this project. Even if groups didn't do Clean Your Streams this year, they can do another cleanup of their own as inspiration with our Clean Your Streams 365 kits. Borrow a kit and you can clean a local site on your own time. This opportunity is also great for teens and their class who love technology and want their voice to be heard. Partners for Clean Streams is happy to be a resource for ideas, stream cleanup data, and other marine debris information for all those participating.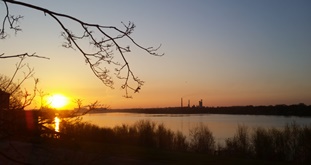 Join us for the Annual General Meeting on Monday, November 16th, as we celebrate the success of 2015 at the Jaddell Center at Camp Miakonda. The event begins at 6:00pm. Following dinner, there will be a presentation highlighting all the work done this year and a sneak peak into next year's plans. We will congratulate Clean Your Streams Challenge Award winners and present the first place winners with a certificates and plaques. We will also present the Clean Streams Partner Award, a prestigious award given to an outstanding member of the community who has shown laudable effort in protecting our local waterways. There will also be a Silent Auction of art pieces and other valuable items. For the business meeting part of the meeting, we will elect next year's board members. If you are interested in becoming a board member, please contact PCS as soon as possible. We would love to have you join the team. The evening will be filled with food, celebration of the work on our rivers and our volunteers and plans to support our rivers in the future. Watch your mailbox for your invitation. Please RSVP by contacting PCS at 419-874-0727 or This email address is being protected from spambots. You need JavaScript enabled to view it.. We look forward to seeing you there!
Partners for Clean Streams is constantly changing, like the rivers we protect. Our next big change is that we will be hiring 2 new part-time staff positions in the coming months. We are still working on the details of what each job will include but the work will focus on public relations and marketing, outreach, fundraising and supporting our major programs, including Clean Your Streams. Check our website for the job postings in the coming weeks and please share with anyone interested in working hard with us on clear, clean, and safe water!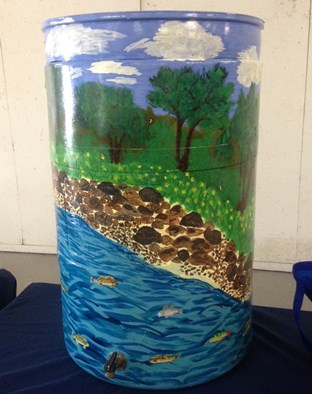 As an auction item for Clean Your Streams Day, we asked Notre Dame Academy for some help in turning a Rain Barrel into art, hoping to encourage people to see how beautiful and practical rain barrels could be. The school rose to the challenge. Maria Basista, a junior at Notre Dame was assigned the project over the summer and hand painted the Maumee River and scenic background on the Rain Barrel. All we supplied her was a plain rain barrel, a smidge of inspiration, our logos and our desire to capture the life in & along the river. She took those logos and our mission and came up with a beautiful, functional piece of art!
Maria is from the Perrysburg area and also a rower for Notre Dame Academy, making her very familiar with the Maumee River. She sought out her father, a photographer, for additional pictures for ideas. The Rain Barrel was sold for a price we are thrilled with, helping to support our programs for clear, clean, and safe water. We are delighted and grateful for her talent, skill and desire to share the beautiful Maumee River. Perhaps her art, on an unusual medium, will inspire more budding nature artists!