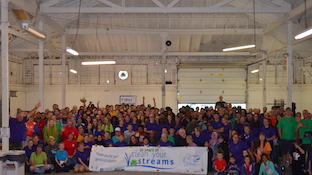 In the week leading up to Clean Your Streams, the weather forecast was less than ideal. But the rain didn't stop our volunteers from cleaning! Thanks to all 960 of them, we have now completed 20 years of Clean Your Streams! The PCS staff and CYS planning team are incredibly happy with the results of the 20th Annual Clean Your Streams Day, which would have been unreachable without the hard work and support of everyone involved. As a part of Ocean Conservancy's International Coastal Cleanup, 960 volunteers left from 8 different kickoff locations and spread out to 67 cleanup sites across the greater Toledo area. During the three hour cleanup, volunteers removed trash from 31.1 miles of stream bank along Swan Creek, the Ottawa River, the Maumee River, and other creeks and ditches flowing into Maumee Bay and Lake Erie. 26,136 pounds of trash was collected, including 730 bags, 311 tires, and many other large pieces of garbage!
The list of trash items found is long and interesting, as always. Volunteers found the typical items like plastic water bottles, food wrappers, and grocery bags. Other, more unique, items found include a baby stroller, $20 bill, skateboard, several mattresses, a car exhaust pipe, a hot tub lid, and a drawer full of socks. We even encouraged volunteers to participate in the CYS 20 "Trash-ure Hunt" to see if they could find some of the most bizarre items founds in that last 20 years. Once volunteers were done pulling trash out of the rivers, we celebrated cleaner, clearer, and safer waters during the Appreciation Picnic at the Lucas County Fairgrounds. There, volunteers were thanked with a hot lunch, CYS t-shirt, educational activities from partnering orgainzations like Metroparks and Lucas Soil & Water Conservation District, door prizes, raffle prizes, music and entertainment courtesy of Denny Schaffer and Q105.5, and the awarding of CYS challenge winners.
Everyone who volunteered for this year's Clean Your Streams Day is a Partner for clean streams and we are so grateful for your support. Whether you participated individually or with a group, business, or organization, your involvement is essential for cleaner rivers now and in the future. Please send us your pictures from Clean Your Streams. You can email your pictures to This email address is being protected from spambots. You need JavaScript enabled to view it., post them to our Facebook page, or share them with us on Twitter and Instagram using the hash tag #CleanYourStreams419. Check out the online photo album of pictures we have so far! You can also still support future Clean Your Streams efforts by donating to Partners for Clean Streams' GoFundMe page or directly on our website.
A tremendous thank you goes out to the CYS 20 Planning Team, which includes Marilyn DuFour, Patrick Lawrence, Brian Miller, Bob Neubert, Tim Niederkorn, Matt Beil, Robin Parker, Andrea Beard, Don Nelson, Bill Buri, Paige Sloma, Kristin Jenkins, Shawn Reinhart, Eileen Mitchell, Cherie Blair, Terry Shankland, and the PCS Staff. Thank you again to our extremely supportive donors. See the complete list of donors on our website. We hope you join us again in 2017 for the 21st Annual Clean Your Streams!