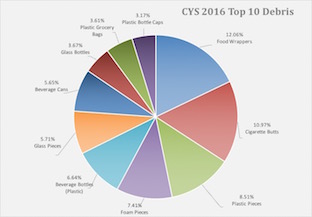 Thank you to all the volunteers who registered for Clean Your Streams Day on Saturday, September 23rd! We are excited to see how many people show up this year to help clean and beautify the waterways and the community. All the trash picked up this year will be recorded and sent to the Ocean Conservancy as part of the International Coastal Cleanup. This data helps determine trends and show patterns as to what is being found in the water that shouldn't be there and how we can help remedy this problem. This event would not be possible without the dedication of all the volunteers and funding for Clean Your Streams Day.
Ready for a Challenge? This year we will be continuing our Clean Your Streams Day Challenge event. Youth and collegiate groups will be able to engage in friendly competitions amongst each other to see who recruits the most volunteers, who can collect the highest number of trash bags, and who demonstrates the best effort with the most bags collected per person. Awards will be provided to the top three winners in each category. Corporate and organizational groups can become Certified River Partners through our Challenge program. River Partner Certification levels will be recognized by the amount of volunteers per group. 50 or more volunteers will become Watershed Warriors, 30-49 volunteers will be River Guardians, 10-29 volunteers will be Stream Protectors and 1-9 volunteers will earn the title of Creek Crusader. More information about the Challenges can be found here. Whatever the Challenge results, the real champion of the day are each and every volunteer who cares for our rivers.
Last year PCS and its partners celebrated the 20th anniversary of Clean Your Streams Day. Over 960 volunteers came out to seven different locations. Together, they removed over 26,000 pounds of trash from over 30 miles of riverbank. In total, the volunteers removed 730 bags of trash and over 300 tires. For three hours in the rain, CYS volunteers combed through the Maumee, Swan Creek, and Ottawa River watersheds and did their part to help conserve and protect our most precious natural resource. Some of the more unusual items found included: a hair comb, golf balls, $20 bill, shopping carts, 3 baby strollers, bowling pin, an exercise ball, film reel, Christmas ornaments, TI-83 calculator, drawer of socks, mattress, rubber raft, mail box, "Sidewalk Closed" sign, car radio, horse reins, traffic cone, football helmet, tape measure, motor oil can, 67 baseballs, skate board, shotgun shell, dog bowl, hot tub lid, and three fishing poles!