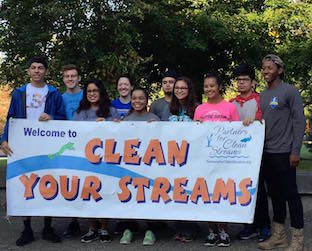 The 22nd Annual Clean Your Streams Day is under a month away – September 22nd! Registration is open for our seven kick-off locations throughout the greater Toledo area. Gather up your friends, family, and faculty to help us remove tens of thousands of pounds of trash from our waterways! This year, kick-off locations include: University of Toledo, Olander Park, Three Meadows in Perrysburg, Monroe Street United Methodist Church, Side Cut Metropark, Middlegrounds Metropark, and Oregon Municipal Building. Sign up through our website (http://www.partnersforcleanstreams.org/cys22/register) or call our office at 419-874-0727. Registration will be open until Friday, September 14th. Groups of ten or more will require a site captain(s) who will need to attend one of our training sessions and be responsible for the safety of their group.
Don't want to get dirty? We need people to help us with the Appreciation Picnic at the Lucas County Fairgrounds following the cleanup. Volunteers are needed to help with food, raffle prizes, and set up/tear down. (You can still get a t-shirt, too!) Reusable cleanup supplies will be collected at the picnic and Challenge Awards will be presented as well. Fred LeFebvre from 1370 WSPD will MC this year's picnic again, so get ready for food and fun as we celebrate your commitment to clean water! Last year, we removed over 23,000 pounds of marine debris from our streams, rivers, and lake and we are trying to do even more this year! With your help, we can reduce pollution in our waterways and improve overall water quality. It's time to take out the trash!
If you can't make it to the cleanup on Saturday, September 22nd, please consider supporting those who can by donating a raffle item. The raffle helps us to show our appreciation for all of the hard work done by our volunteers and the paid raffle items help offset some of the costs of Clean Your Streams Day. We will gladly accept cash donations as well! If you or your business would like to donate to the 22nd Annual Clean Your Streams Day, please contact our office so we can make arrangements and recognize you for your support of improved local water quality.