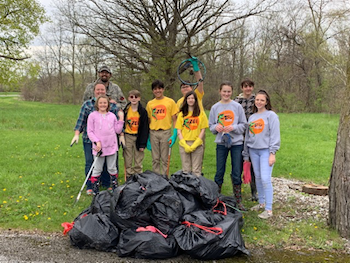 2019 proved to be another great year at Partners for Clean Streams! There have been more highs (high water actually) than lows and much accomplished towards clean, clear, and safe water. Very wet weather and high water levels in the spring/summer meant that a lot of our regularly scheduled river/stream cleanup programs were cancelled (due to safety and access concerns), but our volunteers still got out and did great work when water levels subsided.
The Mercy Health Glass City Marathon green team helped to recycle 1,500 pounds of cardboard and 20 pounds of Gu Packs during Marathon activities; great job everyone! Our storm drain marking effort was furthered by the Ottawa Hills School Environmental Club. Club members marked 27 storm drains in the neighborhood surrounding Ottawa Hills schools. The Toledo ZooTeens led the charge for Get the Lead Out this summer. In one evening, ZooTeens and other community members removed 28 pounds of lead, lines, and lures, and 55 pounds of trash from the banks of the Maumee River. Fifteen Clean Your Streams 365 (CYS365) events were held this year. In total, CYS365 participants cleaned eight miles of local waterways; removing 2,703 pounds of trash! Our canoe paddlers got out for two events as well, and removed 398 pounds of trash from two Maumee River islands. Finally, Clean Your Streams 23 was another successful event, with over 900 volunteers removing 18,455 pounds of trash from our watershed in just a few hours. Are you keeping track? That is approximately 21,640 pounds of trash removed from our waterways across 19 events by just about 1,100 volunteers! What a busy year. Way to go, PCS volunteers!
PCS and our partners and volunteers also participated in a suite of public education/outreach programs. During Patch Day 2019, 59 youth earned scouting patches while learning about various aspects of our waterways, including local wildlife and the effects of pollution in our waterways. PCS also participated in Canoemobile, a new event facilitated by TMACOG, during which 200+ individuals had a chance to paddle the Maumee on a 24-ft canoe and learn about how to care for water resources. To wrap up the summer, 45 individuals were treated to a scenic and informative tour of the Lower Maumee River when they boarded the Sandpiper for the 5th Annual Water Quality Boat Cruise. We are excited to continue this type of programming in 2020!
Please make sure to stay tuned for continued opportunities to volunteer and participate in 2020!