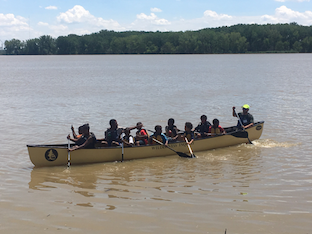 TMACOG's Canoemobile was a great success! The event took place over three days (June 26th - June 28th), and provided 140 youth in our community a chance to experience the Maumee River while participating in a variety of environmental education programming. At the event, students explored various stretches of the Maumee River while riding in Wilderness Inquiry's "floating classrooms", a.k.a. several 24-foot-long canoes. For some youth, this was their first time paddling a canoe, and their excitement after the paddle was clear!
Partners for Clean Streams was on-site each day to provide information to the students regarding types, sources, and effects of debris (trash) in the water. We also distributed materials to the students to encourage the use of reusable items (e.g., metal straws and cotton tote bags). Two students that participated in the events had this to say; "I liked canoeing and learned why we should try to keep the water clean." and "We need to keep the water clean (free of trash) so that animals and people can enjoy it without getting hurt.". We hope that this experience helps area students get excited about their local waters and keeping them clean!
On Saturday, June 29th, the event was wrapped up with the community-wide Canoemobile Watershed Festival at the Broadway Street Boat Launch. The Festival included a chance for people of all ages to ride in the Wilderness Inquiry canoes, learn more about their watershed from PCS and other partners, and enjoy lunch! Thank you to all those that came out and participated in this event!