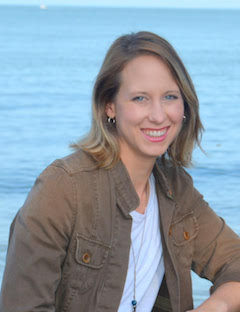 Welcome to PCS, Amanda! We're excited to have you as our Watershed Coordinator.
Amanda Kovach is an Ohio transplant who is very excited to be working with PCS in the position of Watershed Coordinator. She originally comes from Texas, where she received a Bachelor's in biology from the University of North Texas (UNT). Her familiarity with Ohio began during her time at Miami University of Ohio, where she received a Master's in Zoology (emphasis on aquatic toxicology and ecology). She has previously worked as an environmental consultant and a high school science teacher.
Amanda and her family spend most of their free time outdoors; generally paddling, hiking, or fishing around Lake Erie and it's watershed. Her passion and appreciation for all things aquatic began early in life when she wanted to be a SCUBA diver more than anything. This goal was accomplished in conjunction with her first experiences working in an aquatic sciences lab at UNT. Since then, the majority of her career has focused on understanding and advocating for the remediation and restoration of compromised aquatic habitats. Amanda is excited to help restore Lake Erie and its surrounding watershed, and to help influence the next generation of environmental stewards.