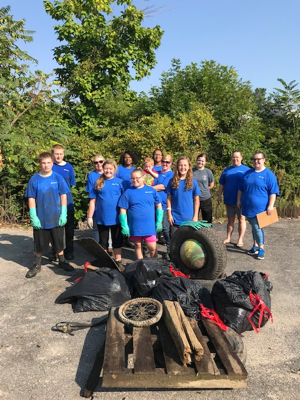 The 23rd Annual Clean Your Streams was another wonderfully successful effort to clean local waters. On September 21st, in the span of just a few hours, 918 volunteers removed 18,455 pounds of garbage from 35 miles of Toledo-area waterways! Many types of trash were removed. In addition to the ubiquitous array of plastics, volunteers removed 124 tires, two mattresses, a Jeep Power Wheel, and many other oddities. Access the official factsheet and photos of the fun here.
After the hard work, volunteers gathered for a celebratory picnic. At the picnic, volunteers were able to learn more about the local environment by visiting booths sponsored by the Toledo-Lucas County Rain Garden Initiative, the Toledo Waterways Initiative, Ohio State University's Stone Laboratory, and Partners for Clean Streams. Volunteers were also able to participate in door prize and raffle prize drawings; items raffled off included passes to the Toledo Zoo, kayak rental vouchers, sporting and theater event tickets, and many gift cards to local businesses and restaurants.
At the conclusion of the big day, Challenge Award winners were announced. First Place Youth challenge awards went to the Toledo ZOOTeens and the Toledo Early College High School. Bowling Green State University's Environmental Service Club swept up first place finishes in all three of the Collegiate level challenges. Finally, first place for the River Partner Certification went to First Solar, who had 88 employees and family members show up to Clean Your Streams.
Many thanks to all of our coordinators, volunteers, sponsors, and donors. This is definitely a group effort, and thanks to all of you, our streams are cleaner, clearer, and safer!