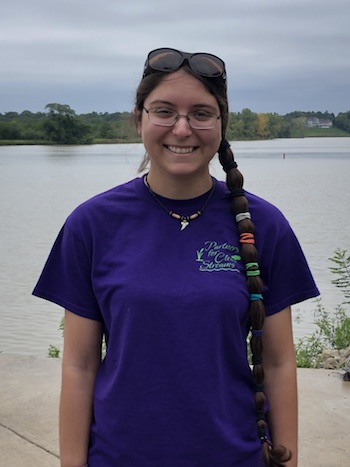 Jamie Forbush is a Toledo native and graduated from the University of Toledo in 2017 with a Bachelor's of Science in Environmental Science and a minor in Geology. Her hobbies include taking care of plants and animals, reading, and a weird quirk of loving to organize. She has worked and volunteered for multiple non-profit agencies in education positions with missions for the conservation of the rapidly disappearing natural areas.
Jamie has always been interested in wildlife, but her passion really took off in high school when her grandfather took her to volunteer at a local wildlife rehabilitation center. She saw animals arrive day after day with injuries of all types due to human negligence; trash stuck around their heads, fishing line wrapped around wings, feet, beaks and necks or swallowed hooks; and so many awful things that people do, intentionally or unintentionally, with many of the injuries being caused by marine debris. Seeing the amount of that harm animals and the environment are going through caused a passion in Jamie for educating people about how their actions can have everlasting repercussions.
Her personal mission is to take the rose-colored glasses off as many people as possible by teaching simple tips that can be added to daily routines, and hope from there that people begin to choose to do more when they see the benefits of helping the earth heal. As the Program Coordinator at PCS, Jamie is looking forward to doing as much as possible to further the mission of helping everyone have clean, clear and safe water.