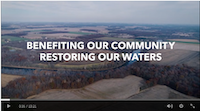 Do you know about the Maumee Area of Concern (AOC); "what are its boundaries", "what is being done here", "who benefits from the work", "why does the AOC matter to you"? Do you know the answers to these questions? If not, never fear, we've got you covered and are excited to announce a new video that will answer these questions and more!
The Maumee AOC is defined as an area of over 787mi2, covering large a large portion of NW Ohio, that has been identified as a place where significant watershed impairments (e.g., degraded fish/wildlife habitat, sediment pollution, etc.) exist. As a result of this designation, federal and state funding has been made available to correct these problems. Over the last several decades, partners from many different groups have worked together, using this funding to make a great amount of progress toward the restoration of our AOC.
As such, the Ohio EPA and the Maumee AOC Advisory Committee (MAAC) are proud to announce the premiere of a professionally-produced video that captures the spirit of the work that has been and continues to be done to improve the Maumee AOC. The goal of this 15-minute production is to inform the public about our AOC, to spread excitement regarding the strides that have been made here, and to share information about the quality resources that are now available as a result of this work. The video debut of this video is coming soon! Watch our social media platforms for the link!