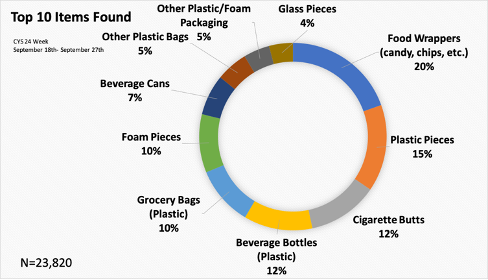 We have compiled all the data cards and tabulated exactly how much trash and debris 431 volunteers were removed from the waterways. This year, over 10 days, there were nearly 90 clean-up sites along riverbanks and one canoe crew. These volunteers worked hard to gather 339 bags of trash equaling 16,597 pounds including 116 tires! A total of 33,888 items were picked up. The top ten items found this year were: food wrappers (4,654), plastic pieces (3,575), cigarette butts (2,887), plastic beverage bottles (2,825), grocery bags (2,445), foam pieces (2,398), beverage cans (1,676), other plastic bags (1,306), other plastic/foam packaging (1,075), and glass pieces (979).
The data cards and tallies in the Clean Swell App help us to track trends and changes in what is being found in our community. This information is submitted to the International Coastal Conservancy database and local municipalities. The goal is to be able to affect policy and public change on a local, regional, national, and international scale to help reduce specifically what is being found in our waterways.
Single-use plastics are widely used and inadvertently end up as litter in the streams; as evidenced by all the plastic material removed through Clean Your Streams with 45% of items removed being plastic. All of our volunteers did an amazing job at reducing the amount of trash in nearby streams and rivers and we hope seeing this impact first-hand will reduce the need for Clean Your Streams programs in the future. Clean Your Streams is one way in which we can conserve and protect our water bodies for the future. Thanks again to all of our volunteers, planning committee members, and sponsors for making this weeklong program a success!