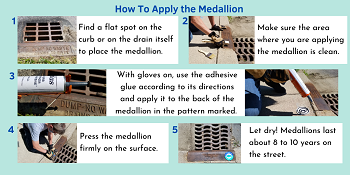 With your help, our storm drains are going to look a little different this year; some drains are earning a medallion! Like many of our programs this year, we are making Storm Drain Marking easy for small groups to do safely. A huge thank you to the City of Toledo; because of their support we are able to provide supplies and information so that local families and youth can work on marking our storm drains with informational medallions in groups of ten or less. These medallions alert the community to the harm of dumping waste/pollutants in our storm drains and the program provides an educational experience for the youth in Toledo.
Our storm drains are a network of underground pipes that transport rainwater, snowmelt, and other water runoff from urban areas straight to local water bodies. Unlike a sanitary sewer, which transports wastewater to a treatment facility for cleaning before releasing it to a waterbody, water that enters a storm drain does not receive treatment (cleaning) before being discharged to the environment. In order to educate the community on this process and discourage dumping into our storm sewers, we mark drains to remind would-be dumpers and passers-by that dumping could harm wildlife and pollute the water that becomes our drinking water. In years past, storm drains were generally marked with spray paint and stencils, but this year, to make the process more manageable for smaller groups, the drains will be marked with a durable medallion; simply glue it in place and move on to the next drain!
Learn more about our program here and check out other ways to help keep our drainage systems clean at Clear Choices Clean Water.