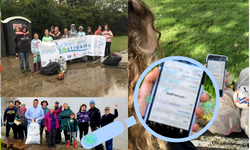 Volunteers persevered through a rainy morning for a successful 25th Anniversary of Clean Your Streams. Now that we have had some time to sort through soggy data cards, we are excited to offer a more detailed breakdown of the trash volunteers collected.
In total, 479 volunteers collected 8175.85 pounds of trash across 52 sites cover 56 miles of rivers, streams, and creeks. While most volunteers participated in-person on September 25, 2021 marked the return of our remote/virtual kickoff: the option for volunteers to clean up in small groups during the week leading up to Clean Your Streams Day. We broke down our results by remote and in-person kickoffs, and uncovered even more interesting finds!
From September 18-24, 68 remote/virtual volunteers picked up 1,252 pounds of trash from 20 different sites, from the mighty Maumee River in the heart of downtown Toledo, to the scenic headwaters of the Ottawa River in Sylvania.
On September 25, 411 volunteers headed off to 32 sites. These determined water stewards removed at least 6,924 pounds of marine debris, including nearly 3,000 food wrappers, 2,941 cigarette butts, 2,116 plastic bottles, and 14 tires. Students and parents from Toledo Early College High School brought the most volunteers from a single group (105 volunteers!) and removed a staggering 1,202 pounds of trash from just two sites: Highland Park and the former grounds of Libbey High School.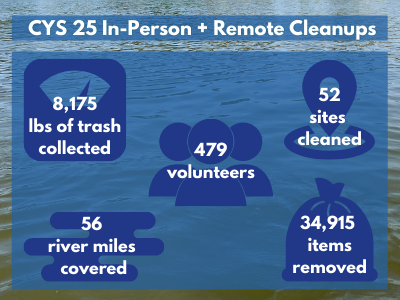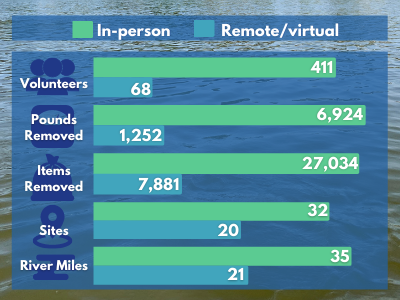 Volunteers' data cards revealed even more interesting finds: plastic vampire teeth, a circular saw blade, a broken IKEA table, multiple car hubcaps, porcelain dishes, and a hotel key card. We are still left scratching our heads about the pile of 70 empty Teddy Graham containers found by one volunteer group in Oregon!
Thank you to each and every one of our volunteers. If you have not yet picked up your Silver Anniversary t-shirt, let us know what size you would like and when you would like to stop by our office.