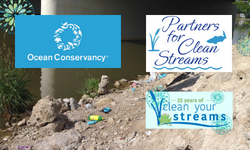 This year is our 25th International Coastal Clean-up (ICC), which we call Clean Your Streams Day locally. Our cleanup pre-dates Partners for Clean Streams, which was founded in 2007. Clean Your Streams Day is one of our most known programs, though we do much more behind-the-scenes to work to benefit the water quality for Lake Erie.
Our sites are along the Maumee River, one of the largest Great Lakes tributaries in the U.S. As an inland cleanup, we have always been a bit different. Instead of flip flops and pretty beaches in our pictures, we have volunteers digging water heaters out of the mud, shopping carts out of the muck, and hauling countless "other" items not listed on the data card up the banks of the creeks.
Our sites range from little roadside ditches (important capillaries of the wider stream network) to our downtown port with barges in the background. In our wide mix of urban, suburban, and rural areas, cleaning the smallest ditches to the widest mouth of our largest tributary, provides a connection to our waterways, and to our great Lake that is tangible and visible to people often isolated from inland water. We clean up marine debris before it makes it to the actual "marine" environment. But what is not different from every other cleanup in the world, is our volunteer's desire year after year to make their community a cleaner and prettier place to enjoy our waterways and to make a difference, one cigarette butt, and food wrapper at a time.
A lot has changed in 25 years, while much has stayed the same. In 2020, like everyone, we had to adapt. Our cleanup became a ten-day hybrid of in-person, smaller teams and those who did a clean-up somewhere on their own with the Clean Swell app. Together we still made an impact – 255 volunteers attended in-person cleanups and 176 completed their own cleanup during September across 79 different sites, removing nearly 17,000 pounds!
With the virtual-remote option volunteers could participate, in whatever way they were comfortable, and to know they were not alone to others who were also cleaning their streams. We noticed that cleanups happened in areas we had not been before, on a wider swath of Northwest Ohio (and southeast Michigan!) Some families even did repeat cleanups.
We again approached this year as a hybrid, but rather than the virtual-remote option being an adaptation we were forced to make, we see it as a wider net we can cast to be inclusive and flexible. In doing this, we are able to provide an opportunity for as many people as possible to participate. In a time when we all want to feel connected to our environment, to each other, and to our greater community we felt that this was an integral option to include in Clean Your Streams Day.
Overall these years, what sticks with us is the volunteers, both young and old(er), who come and make the connections that they can be active stewards of our rivers. And some of those kids even grow up to work in the environmental field too! So, for us, Clean Your Streams is more than a cleanup – it is a way to connect people to our rivers and streams, and each other.