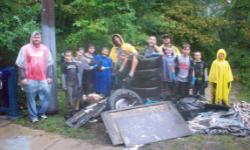 In 25 years of Clean Your Streams Day, we have had some outstanding volunteers. One of those volunteers is Andrea Beach.
Andrea first started volunteering for Clean Your Streams Day over 10 years ago. She started volunteering with her husband in a neighborhood group. But it did not stop there. Andrea comes back, not only for the community service but because it is fun, the entire day. So much fun that she has brought her 3 sons over the course of the last 10 years and has gotten the BSA Scouts involved as well, as a service project.
There are a lot of things to enjoy about Clean Your Streams Day. One of Andrea's favorite parts of Clean Your Streams Day is the strange things that you can find. Finding something that has a real shock factor is always interesting. Andrea had noted over the years that the trash changes based on the area (i.e., if there is construction in the area or if it is a park). She noted last year that there were significantly more masks and gloves found. The strangest things she had found over the years was a gun and a new bong, which her Scouts thought was a fancy vase; she did not break their innocence.
Andrea has found Clean Your Streams Day and Get the Lead Out to be very eye-opening as to what is all long our river. Last year, the pandemic did not dissuade her effort for community service and the excitement of the day. We are looking forward to seeing what you find this year, Andrea, and thank you for all your efforts to clean our streams!