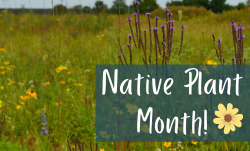 Two years ago, Governor DeWine signed a bill into law that designates April as Ohio Native Plant Month. This honor is based on the many benefits that native plants bring to all facets of our environment, including our waterways! Plants native to our region typically have deeper root systems that help stabilize our soils (less erosion), uptake nutrients (fertilizers), and other contaminants before they reach our waterways. Increased soil stabilization and nutrient uptake can help to reduce the algal blooms we are becoming so familiar with here.
There are going to be numerous opportunities to purchase native plants this Spring. The Oak Opening Region Chapter of Wild Ones provides a great list of plant sales for native plant beginners, enthusiasts, and well-seasoned gardeners. Visit this link for Native Plant fun!
AND! While you wait for your cuties to arrive take a pledge about using native plants and increasing pollinator gardens at https://toledolakeerie.clearchoicescleanwater.org/.