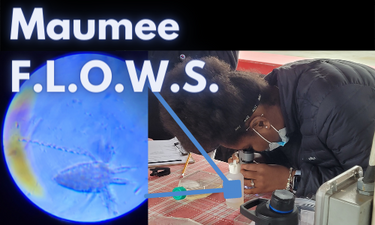 Last year, the University of Toledo's Lake Erie Center got some exciting news. Their program, the Maumee River Floating Laboratory on Watershed Science (Maumee FLOWS – get it?) was awarded a 2021 B-WET grant by NOAA. These grants support projects related to outdoor, hands-on environmental education, and we get to assist with the stewardship!
Maumee FLOWS offers Toledo Public and urban charter school students a new view of their local river, focused on water science and stewardship. Teachers accepted into the program received special training on Maumee River geography, ecology, and water sampling during a summer workshop, and a special science cruise aboard the Sandpiper tour boat. The program also provides educational materials and stewardship project supplies.
This autumn, five middle and high school classes participated in their own Sandpiper science cruises. Students had the opportunity to test water chemistry, including pH, dissolved oxygen, and the presence of nitrates and phosphates, as well as water biology, sampling river sediment for macroinvertebrates and the water column for zooplankton.
Throughout the season, Partners for Clean Streams provided staff support for the science cruises, as well as instruction and supplies for stewardship projects. So far, classes have held two storm drain marking programs, and two Clean Your Streams 365 marine debris clean-ups.
Although colder weather has us putting a pause on outdoor activities, Partners for Clean Streams looks forward to lending our support once more in the spring of 2022.