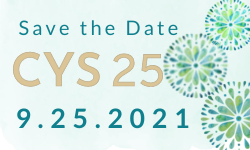 Mark your calendars, save the date, tell your friends, shout it from the rooftop, the 25th Anniversary of Clean Your Streams Day is here! Since 1997, the number of volunteers on Clean Your Streams Day has grown each year and the support for this event has gotten stronger and stronger. We are excited that not even a pandemic could deter our volunteer's determination for clean water. The more friends, family members, and colleagues you encourage to join us for this special day, the bigger impact we can have on our local waterways.
The 25th Anniversary of Clean Your Streams will be happening the week of September 18th- September 25th, with the main celebration happening on September 25th. There will be an in-person clean-up on September 25th with usual kick-off locations. But if you cannot make the September 25th, we are offering "remote" do it on-your-own time clean-ups beforehand. Both "remote" and in-person volunteers will be invited to a special Clean Your Stream 25th Anniversary picnic on September 25th to celebrate and reflect on their amazing impact on our waterways.
Stay tuned for more details on our website, including the opening of registration in mid-August.