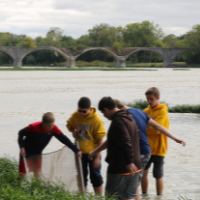 Volunteer science groups are critical for collecting water quality data. However, these groups often develop in response to local needs, and it can be challenging to coordinate efforts and share data across a larger region. One purpose for citizen science efforts to collaborate and share data together is to educate the public about the health of our local waterways better.

Thanks to a generous grant from Greater Toledo Community Foundation, we've now kicked off a multi-agency program called Community Water Action in Toledo (CWAT) that will streamline volunteer involvement in monitoring water quality in the western basin of Lake Erie. This grant allows PCS to connect partner organizations' (Metroparks Toledo, TMACOG, Toledo Zoo, and Toledo Rotary) water monitoring programs by sharing training resources, engaging in volunteer outreach, aligning sampling protocols and methods, and evaluating program success.
Foundation funds enabled us to hire our water quality monitoring coordinator intern, Katarina Kieffer, to oversee these efforts. Cleveland Water Alliance will be providing local partners with additional sampling equipment and guidance. CWAT is the local hub for a Lake Erie region-wide effort of the Lake Erie Volunteer Science Network, led by Cleveland Water Alliance.
In future years, water monitoring will take place regularly from April – October. For this inaugural field season, Kat has started her work with PCS by collaborating closely with our partner organizations on creating a foundation for effective and efficient monitoring when the program officially kicks off in August. Monitoring efforts will focus initially on the Maumee and Ottawa river watersheds.
CWAT will be using the Lake Erie Baseline Assessment Framework (LEBAF), a set of standardized protocols developed with Cleveland Water Alliance for water quality monitoring. The LEBAF standards will guide sampling and reporting about our watersheds. These standards will also be used by all partners in the Lake Erie Volunteer Science Network, leading to a robust dataset covering the broader Lake Erie region. Citizen science can be a source of powerful information and community engagement, and creates new educational opportunities for involved volunteers to learn about how our waterways change over time.