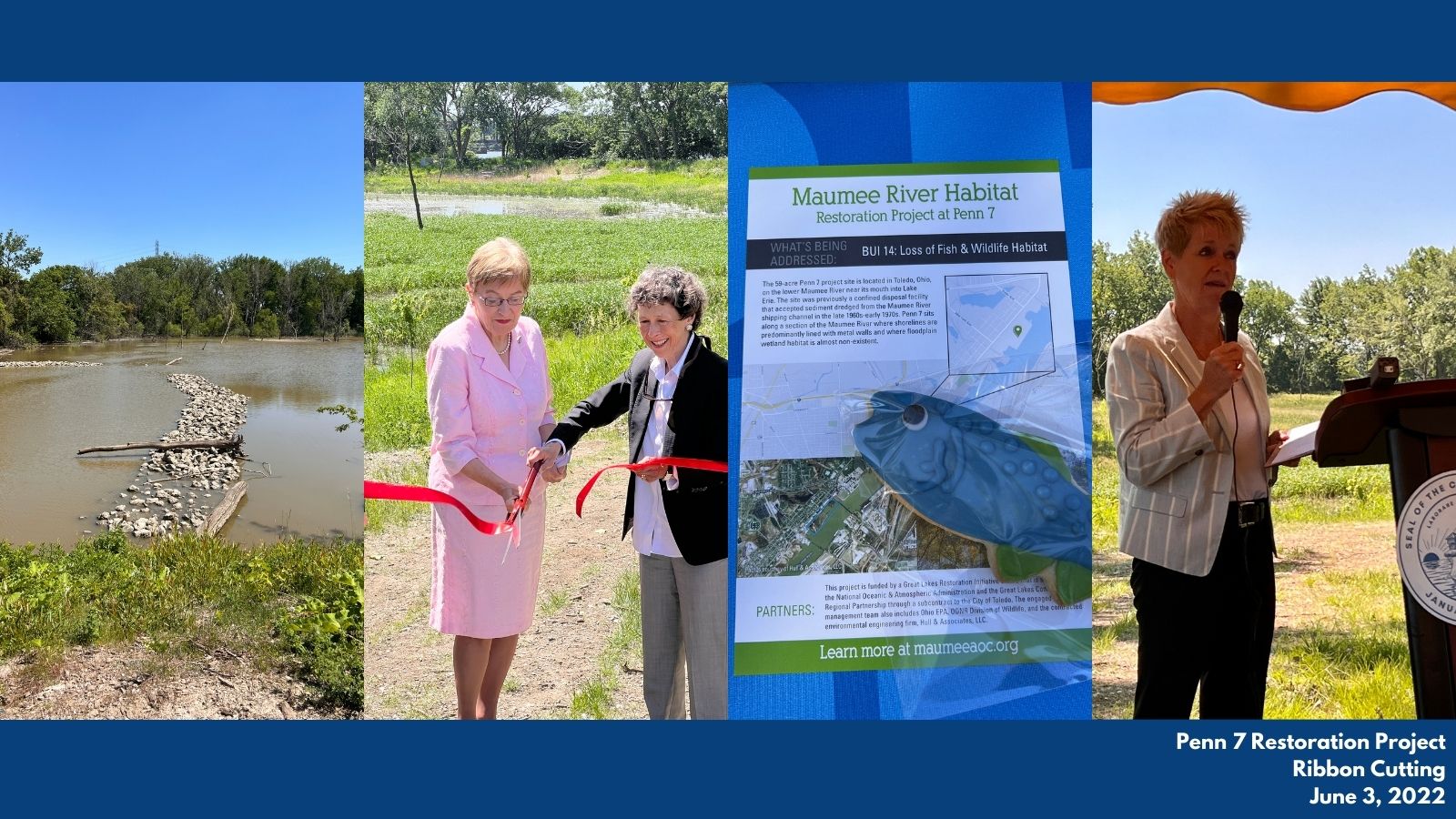 This spring, two restored habitat projects opened with ribbon cuttings: the Sandhill Crane Wetlands expansion of Kitty Todd Preserve and the Penn 7 property on the shore of the Maumee River. As facilitating organization for the Maumee Area of Concern Advisory Committee (MAAC), it's our pleasure to introduce you to these inspiring sites and share some hopeful news for environmental remediation in our region.
The Sandhill Crane Wetlands are 280 acres of former farmland located west of Toledo, restored to critical wet and upland prairie habitats. This project site strategically links a 13,00-acre corridor of protected land in the Oak Openings region. In the works since 2018, this project included removing 30 miles of agricultural drainage tile, setting the stage to recontour the land and to seed over 200 native species of grasses, sedges, and trees. This seasonally-flooding, biodiverse landscape is situated to become prime habitat for an important indicator species within the Maumee AOC: the sandhill crane.
Moving eastward across the AOC, the 59-acre Penn 7 project site is located within the City of Toledo on the lower Maumee River, near its mouth into Lake Erie. The site was previously a confined disposal facility that accepted sediment dredged from the Maumee River in the late 1960s - early 1970s. Research, design, securing funding, and construction at this site have been part of a process underway for over eight years. Now, thanks to the construction of a new upstream wetland and an excavated connector channel to the Maumee, Penn 7 is poised to provide quality spawning and nursery habitat for 40 species of fish, as well as diverse species of migratory and native birds.
Both of these sites are important pieces of the puzzle to get the Maumee delisted as an Area of Concern, getting our region closer to removing beneficial use impairments currently affecting our waterways.
Partners for Clean Streams staff works behind-the-scenes to highlight many other projects both completed and underway in the Maumee AOC. Head on over to the Maumee AOC website for information on many other projects in our region.
Curious how the Maumee AOC fits into what we do? The answer lies in PCS's origins as an organization. We told our story in a newsletter earlier this year. Check it out!