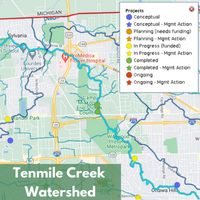 We've been working hard to update watershed plans throughout the Maumee AOC. Now, we need YOUR input to help identify water resource projects in the Tenmile Creek area, such as eroding streambanks or spots in need of habitat restoration. Check out the new draft watershed plan for Tenmile Creek and learn how to give us your feedback and new project ideas.
A NPS-IS is short for Nonpoint Source-Implementation Strategy, also known as a 9-Element Watershed Plan. That may sound like a mouthful, but let's break it down into simpler parts.
Some sources of pollution are confined and discrete, like a smokestack or discharge pipe. These are called "point sources." Other types of pollution have more difficult-to-define origins, released over a wide area. These are called "nonpoint sources." Nonpoint source pollution includes things like excess fertilizers, road salt, bacteria from livestock or pet waste, sediment from improperly managed construction sites, or urban runoff like motor oil.

A NPS-IS is a living strategic planning document that summarizes causes and sources of environmental harm or impairment, identifies specific objectives to address the causes and sources of impairment, and describes projects designed to meet those objectives.
Each NPS-IS addresses a specific watershed, called a HUC-12, which is smaller than our regional drainage basin into Lake Erie. You can find the HUC-12 where your local waterway is located using this interactive Ohio EPA map.
The Tenmile Creek HUC-12 NPS-IS is ready for feedback and input. View and download the PDF here. Please reach out with any information you can provide regarding problem areas and potential solutions in your watershed! You can email your feedback to our consultant, Deanna Bobak, at This email address is being protected from spambots. You need JavaScript enabled to view it..