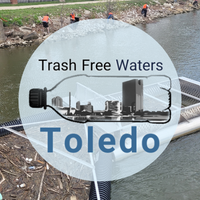 In 2021, the City of Toledo started a project through US EPA's Trash Free Waters program to install trash capture devices around Toledo's waterways and raise awareness around marine debris. The City recruited a team of community organizations – including us – to provide outreach and stewardship opportunities.
Three trash traps were installed in Toledo waterways in 2022. Two were "Brute Bin" traps, one in the Ottawa River below the Stickney Avenue Bridge, and the other in the mouth of Swan Creek below the Owens Corning Parkway bridge. The third device was a "Net and Boom" style trap, installed in Silver Creek where it passes nearby Alexis Road. These devices are removed during colder weather to avoid damage, but this project will continue into 2023, when we'll see the installation of new types of devices, as well as previously installed devices moved to new locations to maximize their effectiveness.
Between the beginning of April and the end of September, Partners for Clean Streams coordinated twelve watershed clean-ups inside the Toledo Trash Trappers' project area: within five river miles of Lake Erie. Some of these sites were deliberately chosen to take volunteers within sight of installed trash trapping devices in the lower Ottawa River and the mouth of Swan Creek to pair volunteer cleanups with trash traps. Data on types of trash removed during our clean-ups has been sent to the University of Toledo so that graduate student researchers can compare the trash types removed by volunteers on land to the devices in the water. Across these twelve clean-ups, 134 volunteers removed 4,863.5 pounds of marine debris from Toledo waterways.
We will continue to work with the City of Toledo and other partner organizations, including the University of Toledo and Keep Toledo/Lucas County Beautiful, next year in 2023! In the meantime, check out some tips for reducing marine debris every day.