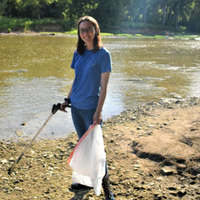 BGSU senior Kayla Kirkpatrick shared her summer and part of autumn with us as our awesome Program Intern. In her own words, here's how she described her experience with Partners for Clean Streams.
"Over the past three months I have worked as a Program Intern at Partners for Clean Streams. The programs I helped out with included Clean Your Streams 365, Storm Drain Marking, Get the Lead Out, and Reel in and Recycle. It is hard to choose which program is my favorite because they are vastly different from one another. One of my hopes for this internship was to experience a sense of belonging to the organization and my community."
"I got plenty of experience digging through mud and trash over the past couple of months. Some of the most memorable clean-ups would probably be the CYS 365 Paddle Clean-Ups. This is a partnership with the Toledo Metroparks. Other memorable programs would be the Blue Grass Island Cleanup (in Side Cut Metropark), and the Delaware Island Cleanup. When I wasn't out in the field, I spent time logging data from the clean-ups, and organizing/ prepping items around the office. While these don't seem as exciting as the programs themselves, they are very important to keeping the organization running smoothly. Additionally, while I spent most of the programs assisting the Program Coordinator, I got the opportunity to run some programs on my own. I feel like this opportunity helped to boost my leadership skills because I had to keep everything organized. I feel the skills I have learned at this internship will help me in my career in the future as an Environmentalist, as well as help me in my day to day life."
Thank you for all your hard work, Kayla! The PCS team wishes you the best in your future endeavors.