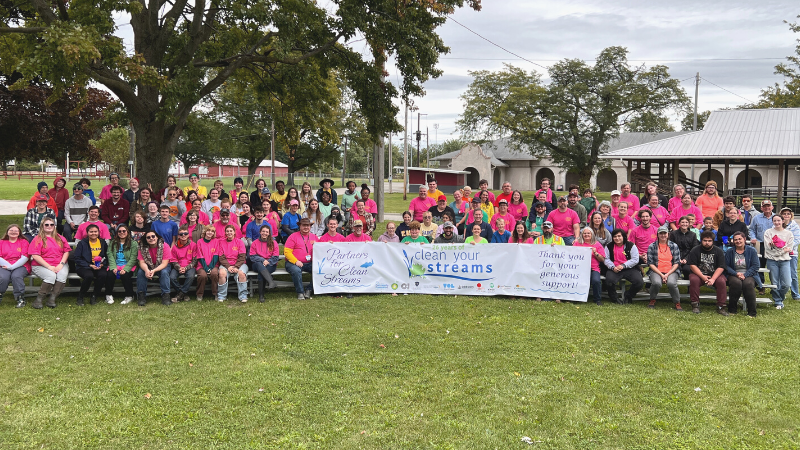 For twenty-six years, we've been amazed by our volunteers' determined water stewardship during Clean Your Streams Day. 2022 was no exception! Partners for Clean Streams is proud to present the results of their efforts in sites cleaned, pounds of marine debris removed, and river miles covered. We're also announcing the winners of the Clean Your Streams Challenge Competitions and River Partner Certification recipients.
Remote Kickoff
After the success of our clean-on-your-own Remote Kickoff in 2020 and 2021, we knew we wanted to bring back this participation option in 2022. Volunteers chose a time and location during the week leading up to Clean Your Streams Day, submitted liability forms, then shared data and pictures following their clean-ups. The Remote Kickoff allow us to expand the geographic impact of our program. This year, we had groups clean up sites in Port Clinton, Bowling Green, Roche de Boeuf, and even in Hudson, Ohio near Cuyahoga Valley National Park! We also had two groups clean-up via watercraft: Toledo Environmental Services (Maumee River near Imagination Station) and Heritage Environmental Services (Maumee River and Grassy Creek.)
Remote Kickoff Results
Volunteers: 111
Sites cleaned: 21
Pounds of marine debris removed: 2,089.6
River miles covered: 13.80
In-Person Kickoffs
On September 24, 2022, in-person volunteers arrived at one of eight kickoff locations around Northwest Ohio. From there, groups were assigned a waterway site where they spent the morning removing marine debris and tabulating data on the items they removed. Afterword, many volunteers attended our Clean Your Streams Volunteer Appreciation Picnic and enjoyed free food, education stations, door and raffle prizes, and more.
In-Person Kickoff Results
Volunteers: 541
Sites cleaned: 41
Pounds of marine debris removed: 11,504.9
River miles: 15.44
Total Impact
Volunteers: 652
Sites cleaned: 62
Pounds of marine debris removed: 13,594.5
River miles: 29.24
Clean Your Streams (CYS) is the largest single-day watershed clean-up in Northwest Ohio, as well as the largest clean-up in Ohio that contributes marine debris data to the International Coastal Cleanup (ICC) database. Volunteers have an impact on watersheds around our region, including the Maumee River, Ottawa River, Swan Creek, and Maumee Bay tributaries. Thank you to all 652 volunteers that helped remove nearly seven tons of misplaced trash in and around our local rivers.
To date, more than 382,000 pounds of marine debris have been removed from area waterways by over 15,500 volunteers. Among many strange finds this year, volunteers discovered a crashed drone, a rubber ducky with a rainbow unicorn mane, a fire extinguisher, plastic succulent plants, a pregnancy test, three e-bikes, and ninety-four tires! Like last year, the #1 most commonly found item was food wrappers, with over 8000 removed.
To see who won our friendly-yet-competitive Clean Your Streams Challenges, click here. These groups went above and beyond in their efforts!