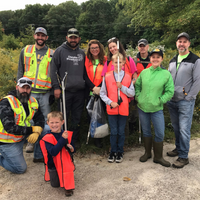 It takes a village to pull off a program like Clean Your Streams Day. We want to highlight some of the sponsors who make our programs possible, and keep you in the loop on ways that you can contribute to our mission all year round.
First of all, we'd like to acknowledge our new grant funder for 2022. Earlier this year, we announced that the Board of Trustees of the Greater Toledo Community Foundation approved a grant from the Sisters of St. Francis Foundation Donor Advised Fund to Partners for Clean Streams for $17,535 to support marine debris removal efforts. This grant supported Clean Your Streams 365 programs earlier this year, and was also a key source of funding for Clean Your Streams Day.
Clean Your Streams benefited from two returning Community Partner-level sponsors this year: BP and O-I Charities foundation. We are also grateful for nine CYS Underwriter sponsors: the University of Toledo, First Solar, Lucas County Storm Water Utility, City of Toledo Environmental Services, City of Oregon, Kwest Group, Bass Pro Shops and Cabela's Outdoor Fund, NSG Glass North America, and OmniSource. We are so grateful for these businesses, organizations, and municipalities' continued commitment to our waterways. For a full list of our sponsors, click here.
We are also supported by many generous individuals who see the difference that our programs made. You can make a one-time gift to Partners for Clean Streams easily online, or become a sustaining donor through our membership program. You can link your Kroger Plus Card with the instructions on our website, and connect your Amazon account to support us by searching "Partners for Clean Streams" on AmazonSmile.