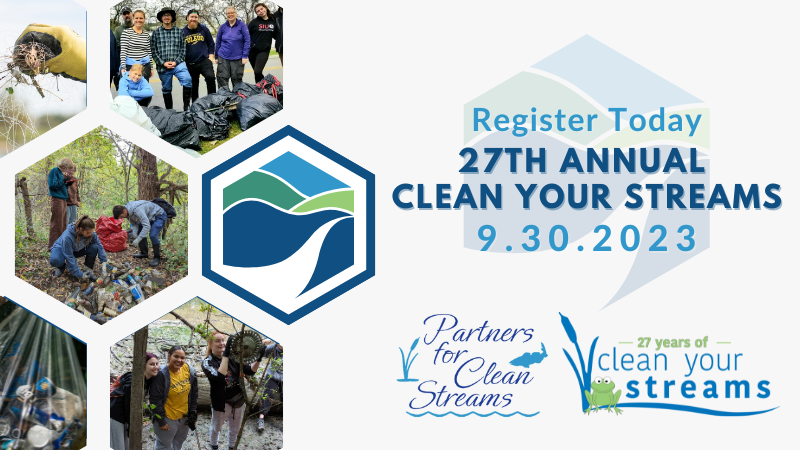 Join Northwest Ohio's largest watershed clean-up, now in its 27th year. Register here for one of seven kickoff locations or our clean-on-your-own Remote Kickoff week. Learn more about our updated challenge competitions, from photo challenges like "Best Before and After" and "Strangest Find," to our challenges for youth and collegiate groups. Make a lasting impact on your community's waterways and have fun along the way!
Like past years, volunteers will choose a kickoff when they register. There are seven kickoffs spread throughout our region to choose from on Clean Your Streams Day, with many river, creek, and ditch sites in-need in each kickoff region.
This year, we're bringing back our week-long, clean-on-your-own Remote Kickoff leading up to Clean Your Streams Day. After you register for the Remote Kickoff, choose a public waterway site where you'll pick up trash, and use the Clean Swell app to record what you remove. Complete your clean-up any time from Saturday, September 23 through Saturday, September 30.
Want to step up your water stewardship? After you register for Clean Your Streams, sign up for site captain training. Site captains are critical volunteers who coordinate groups for safety, to collect high-quality citizen science data, and make our program as impactful as possible. If you're planning to bring a group with ten or more members, one volunteer is required to attend site captain training, but we recommend the training for leaders of groups of any size.
If you have any questions about registration or Clean Your Streams Day, please email This email address is being protected from spambots. You need JavaScript enabled to view it. or give us a call at (419) 874-0727.