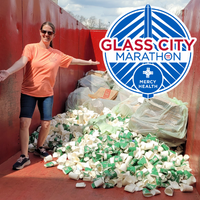 We need your help preventing marine debris at the Mercy Health Glass City Marathon. Sign-ups are now open for April 21-23. We're partnering with Keep Toledo-Lucas County Beautiful to coordinate the "Green Team," where the winner is always the Ottawa River.
Many Green Team volunteer slots are in the mornings; early birds, this is your time to shine! Check out Green Team opportunities on the marathon weekend volunteer page. Register by March 17 for a free t-shirt! If none of these volunteer slots work for you or your group but you'd still like to help out, feel free to email This email address is being protected from spambots. You need JavaScript enabled to view it. and let us know you're interested.
Most of PCS and KTLCB's work on the Green Team is behind-the-scenes, leading up to the fast-paced weekend. Alongside runners, volunteers work hard to divert marine debris from the Ottawa River. In past years, over the course of a single race weekend, the Green Team often recycles around 3,000 pounds of cardboard, glass, aluminum, plastic, heat sheets, energy packs, and more!
If you are running on race weekend or you want to support a runner in your life, please consider donating to support PCS as a charity partner. We're proud to support healthy runners and healthy rivers.