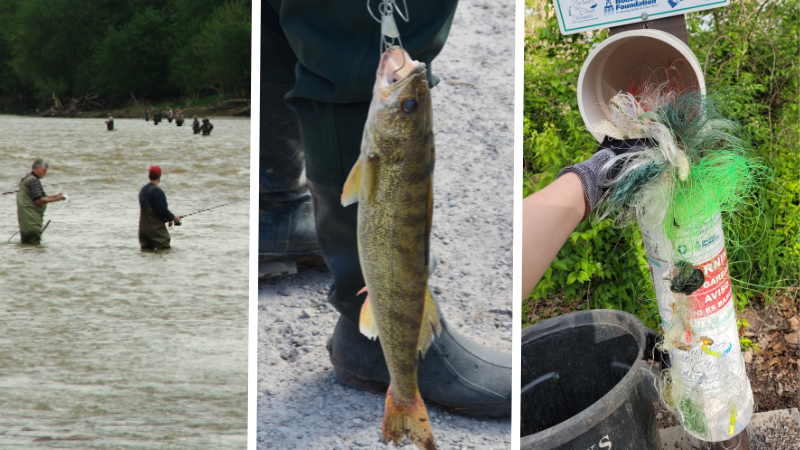 The Walleye Run is coming soon! Signs of spring bring thousands of people to fish our beautiful Maumee River. Adopting a fishing line recycling bin or using one while you're fishing plays an important part in keeping our waterways free from marine debris.
Why does recycling fishing line matter? Discarded fishing line has become a serious issue in waterways around Northwest Ohio. Thin, hard-to-see plastic line creates a risk for animal entanglement. It gets caught on roots and riverbanks, and colorful lures are sometimes mistaken as food by other animals. Tangled fishing line, hooks, and lures damage aesthetics, recreation opportunities, and community pride in our waterways.
If you're an angler yourself, it's easy to use fishing line recycling bins. Check our interactive map for the closest bin to your favorite fishing spot. While you fish, store your broken or excess line in a bag, bucket, waders, or one of our "Stow It – Don't Throw It" containers. Once you're ready to go, stop by the recycling bin you located and simply deposit your line inside. The bin's host will periodically clean out the line.
Not an angler, but still want to help out the Maumee River? Consider volunteering to adopt a bin. You'll be responsible for collecting fishing line from your chosen bin and logging how much line you remove. You also have the option to sponsor a bin by emailing your completed form to This email address is being protected from spambots. You need JavaScript enabled to view it.. You can make a gift via PayPal (preferred) or with a check mailed to our P.O. Box.