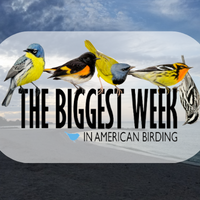 Stop by the "Birders' Marketplace" at Maumee Bay State Park Lodge May 10-13 to visit our educational table. We'll have information on stewardship programs that improve waterways for humans and birds alike! Learn more about the connection between clean water and "The Biggest Week in American Birding."

Organized and hosted by Black Swamp Bird Observatory, The Biggest Week In American Birding is a 10-day festival in Northwest Ohio celebrating the spring migration of dozens of bird species through our Lake Erie shores. Many birders are especially enthusiastic about the uncommon species of warblers that can be spotted this time of year, lending our region the nickname, "The Warbler Capital of the World." Birders flock here from around the country and around the world—to date, BSBO has registered participants from 52 countries.
So why are there so many species of birds in Northwest Ohio in May? The short answer is: our unique position on the southern edge of Lake Erie, plus our pockets of rare and precious habitats. As BSBO puts it,
"The southern edge of Lake Erie acts as a barrier that the birds are reluctant to cross during migration. The birds tend to 'pile up' in the woodlots surrounded by marshland on the lake's southern edge to rest and refuel before crossing the lake."
Many of the top spots where birds rest and refuel are Lake Erie shoreline wetland habitats, including Magee Marsh, Metzger Marsh, and Ottawa National Wildlife Refuge. You can learn more about the history and protection of our local wetlands in our February 2023 "Why Wetlands Matter" story.
How do our programs fit in? We know marine debris poses a hazard to birds through accidental ingestion or entanglement. We're proud of our volunteers' marine debris removal and prevention efforts, from Get the Lead Out clean-ups to fishing line recycling bins, that make our waterways safer for our migratory friends.