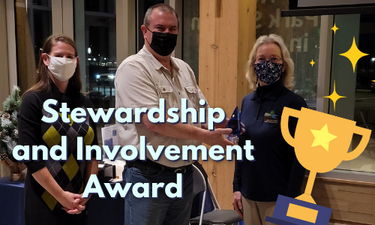 PCS offers our warmest congratulations to Jamie Kochensparger, the 2021 winner of PCS's Annual Award for Environmental Stewardship and Involvement. Jamie has worked as a Lake Erie watershed steward for more than 30 years across multiple organizations. How did Jamie go from hosting a weekly live radio show on outdoor news, to becoming the Education and Outreach Director for the Lucas Soil and Water Conservation District?
Jamie earned a Bachelor of Arts Degree in Environmental Policy & Analysis with an emphasis in Environmental Education from Bowling Green State University.
As a Naturalist/Ranger for the Sandusky County Parks, she created the WOW! Women's Outdoor Workshop to provide outdoor skills opportunities and promote Leave No Trace principles. She provided weekly outdoor news columns for the Fremont News-Messenger and weekly live radio shows for Fremont 99.1FM, which led to nomination to and acceptance into the professional organization Outdoor Writers of Ohio and subsequent service as Board Member, Vice President and Editor of the newsletter LORE.
As Public Information Specialist for the Lake Erie Commission, she served as state coordinator for Ohio's Coastweeks and the Ohio Lake Erie Commission.
Currently, Jamie works as the Education and Outreach Director for Lucas Soil and Water Conservation District. In this role, she designs and facilitates environmental education programs for students of all ages, from preschools to senior centers! Since she started with the SWCD in 2003, Jamie has increased annual programs from 55 to more than 150, and reaches thousands of Lucas County residents with her programs. She was named Outstanding Area 1 Soil & Water District Employee in 2007.
She has partnered with the Maumee RAP and PCS on a number of educational initiatives, including Give Water A Hand, the Partnering for Clean Streams Patch Day Program, and Water Quality Cruises. She has collaborated with partners to develop a curriculum for a Junior Watershed Academy and is working with us on education and stewardship to support Toledo Public Schools students while on the Sandpiper and in the classroom, under a grant from NOAA and the UT Lake Erie Center. Jamie is a consummate educator who continues to have a lasting positive impact on our watersheds and the residents within them.