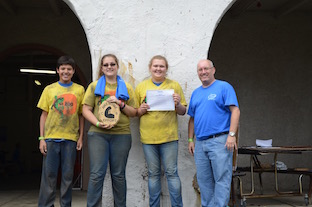 After registering for Clean Your Streams Day, consider signing up for our Challenges or River Partner Certifications! If your registered group is comprised of mostly youth or a college student organization, then you are eligible for our Youth and Collegiate Challenges. There are 3 different challenges for Youth and Collegiate groups, and awards will be provided for the top three finishers for each; the challenges include, Most Volunteers (the group with the most volunteers), Battle of the Bags (number of total bags of trash a group fills), and Awesome Effort (the average number of bags per person). To participate in these challenges, the group must complete and return the entry form by 12:30 pm at the Appreciation Picnic.
We also encourage our Corporate and Organizational groups to become Certified River Partners for Clean Your Streams. Groups interested need to "certify" the total number of volunteers in the registered group at check-in on the day on the event and will be awarded a level of certification after Clean Your Streams Day. The River Partner Certification levels include Creek Crusader (1-9 volunteers), Stream Protector (10-29 volunteers), River Guardian (30-49 volunteers), and Watershed Warrior (50 or more volunteers). Our CYS Champions include volunteer groups, organizations, businesses, and individuals who inspire us to continue working toward clean, clear, and safe water. The Champions were nominated by Partners for Clean Streams staff and the Clean Your Streams planning committee.
Challenge registration forms for CYS 24 (2020) will be available here closer to the event date.