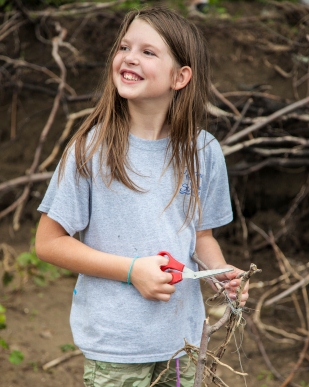 -By Kris Patterson
We have great news! We've been awarded a $17,000 grant from the Stranahan Supporting Organization of the Toledo Community Foundation to support our stream cleanup programs next year. But we need your help.
Our request for this grant was $25,000 – leaving us with a gap of $8,000. Will you help us bridge the gap? Make a donation now to allow us to expand our programs in the way we envisioned to support clean, clear, and safe waters. Our grant will purchase more permanent, re-usable supplies and materials, increase staffing, expand our impact and involve more volunteers for our signature Clean Your Streams event. It will support our Outreach Coordinator's ability to build and roll out expanded opportunities to remove lead and line in the Get the Lead Out Program. Beyond those programs, this grant will expand our stream cleanup opportunities to reach even more groups and families throughout the year and clean river banks not cleaned during our large scale events. We are so grateful for this wonderful opportunity to expand our stream cleanup programs. But without your support, we will need to trim back what we've envisioned to fit within the partial grant support.
As a small non-profit, we are certainly used to tightening our belt, so of course, I'm carefully reviewing this already lean budget. But I hate to change the vision we had for growing our programs. Before we slash the budget by nearly a third, I'd like to give you the opportunity to keep this vision a float.
Think of it this way – when you give your gift, it will already be more than doubled!
Every gift will help and together, you can quickly close this $8,000 gap. Please, mail a check or donate online (click on the Donate Now at the top or on our website) before the end of the year.
Your support keeps our dynamic engagement and education events, like Clean Your Streams Day and Get the Lead Out, coming back better year after year. These fun events inspire students and families, build a sense of community, and keep our rivers and streams safe for people and wildlife. And with your help, and the grant from the Stranahan Supporting Organization of the Toledo Community Foundation, we can continue to grow these programs, reach more people and impact more waterways and share the love of our rivers.