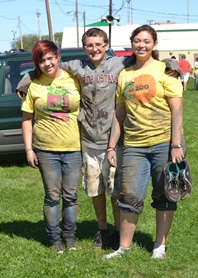 Have you registered for the 17th Annual Clean Your Streams Day yet? Last year's event broke records with 1,175 volunteers removing 18,822 pounds of trash from 60 sites near waterways around greater Toledo, can you help us ride the wave of success by joining us Saturday September 21st from 8:30am-12:00pm? Make sure you are part of this year's event by visiting PartnersForCleanStreams.org to register yourself or your group, and do so soon because registration closes September 16th at 8am!
Clean Your Streams day is part of the 27th International Coastal Cleanup where thousands of people across 80 countries, including 47 U.S. states, help clean our planet's waterways. This year's cleanup has already proven itself better than ever with the addition of more sites, a new required registration system, an improved appreciation picnic, exciting group fundraisers, and now a Social Media integration! PCS has joined Twitter (@PCSMaumee) and invites all CYS participants to share their excitement and love of their waterways by using the hashtag #CYS17 on Twitter, Facebook, and Instagram!
Do you have an interest in taking on a larger role this year? There is still time to become a site captain, assist with the picnic, or help us in the final stages of the planning process! Time is running out, so contact our Outreach Coordinator, Ava, today at This email address is being protected from spambots. You need JavaScript enabled to view it. or 419-874-0727 to get more involved.
Clean Your Streams day is organized by PCS but made a success with community support. Thank you to our largest sponsors who have already contributed to the event through their generous donations: BP Husky Refining, University of Toledo, Johnson Controls, Lucas County Storm Water Utility, Perstorp, and First Solar. To view a full list of community partners, please visit our Clean Your Streams homepage.