Thank you and congratulations to the 85 young Scouts that attended the Youth Patch Day Workshop on Sunday, March 2nd. The group of energetic Boy and Girl Scouts from kindergarten through fifth grade earned the blue and white embroidered Partnering for Clean Streams Patch by participating in various water education activities. Professionals that work to improve our water quality daily came to lead activities by teaching the children how to become educated and active stewards of our water resources through hands on activities. Participants played in dirt, made worm bins, learned about agriculture, painted a protective storm drain message and explored how water is treated so it is safe for us to drink. The workshop ended in song highlighting benefits of rain gardens. Many of the participants were excited to come back next year. One parent commented, "The presenters were very engaging and the kids are learning a lot that they wouldn't get anywhere else." An eleven-year-old Scout agreed, with an enthusiastic, "This is really cool!" A huge thank you goes out to all those who participated and all those professionals who made the event possible, including Cherie Blair, Andrea Beard, Jen Huber, Jamie Kochensparger, Cheryl Rice, Patrick Lawrence, Richard Kroeger, Rick Hannum, Marilyn DuFour, and Lauren Rush. We look forward to see you at next year's workshop!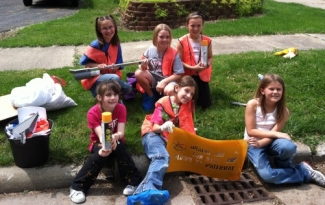 Storm Drain Marking for Global Youth Service Day is approaching and registration is now open! On Saturday, April 12th, join the dozens of volunteers that will be marking storm drains with a clear message to citizens that "Drains are for Rain, Flows to Waterway" and passing out informational door hangers. Join us from 9:00am-12:00pm marking the storm drains in preselected jurisdictions all around the greater Toledo area to protect our streams from pollution. An Appreciation Picnic will be held at 12:30pm at the Toledo Zoo as part of Global Youth Service Day for all volunteers. If weather does not permit us to mark the drains on April 12th, a rainout date is scheduled for April 26th. Please check out the Storm Drain Marking poster for more details. To register, please complete and return the registration sheet. The deadline for registration is March 28th, so hurry!
Crews are gearing up for the second round of seasonal work funded by the National Oceanic and Atmospheric Administration. At the end of last year, the combined crews from the Metroparks of the Toledo Area, The Nature Conservancy, and Partners for Clean Streams treated over 1,400 acres of habitat while creating 29 jobs. This surpassed the project's original goals and we're only half-way done! The Metroparks and The Nature Conservancy still have plenty of habitat restoration to accomplish in the spring, including prescribed burns, canopy reduction, invasive plant species control, and more. We are excited to be a part of this successful, collaborative effort in restoring habitat within the Maumee Area of Concern. Thank you to those who have been part of this process and be sure to keep an eye out for future updates and milestones as we progress through the next restoration season!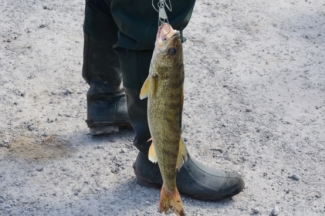 Every year, thousands of anglers from all over the country surge towards the Maumee River in search of the perfect walleye. Starting in March through April, anglers of all ages stand shoulder to shoulder casting lines into the 5 mile stretch of the river near Perrysburg and Maumee. One estimate said that 10,000 anglers take part in this annual ritual, hoping to catch a walleye during their spawning season.
Walleye spawn in response to multiple environmental cues, according to Ohio Department of Natural Resources. The highly prized game fish comes into the Maumee River when the water is about 42-52 degrees but the fish are also cued by the amount of daylight and river current. The Maumee River's stream bed consisting of various sized rocks makes it an ideal breeding ground for the walleye. The fish also breed in rivers from eastern and central Lake Erie near Cleveland, Sandusky, and around the Great Lakes, but the Maumee River draws the biggest crowds of fish and anglers. According to the EPA, about 3 million walleye are harvested from western and central Lake Erie every year. It's no wonder the Toledo hockey team is named after the famous fish!
...Read More