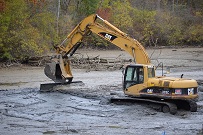 Construction is reaching a closing point at Camp Miakonda as crews reach critical junctures for the major tasks. Partners for Clean Streams (PCS) couldn't be more thrilled with the way the project has progressed over these past months. Excavating the nearly 10,000 cubic yards of sediment from Lake Sawyer has shifted from trucking it off site to shaping banks and removing the temporary access road as water quickly flows back in. Sloping back the excavated areas in Lake Sawyer will help prevent erosion as well as provide a gradual transition between deeper and shallow areas, perfect for aquatic habitat and recreational activities.
Along the edges of Lake Sawyer are several built-up sections that are designed to be wetland shelves. These shelves will allow for water to filter through, removing sediment and any potential pollutants before the water reaches the lake, and eventually the Ottawa River. These areas will remain underwater, yet will be shallow enough to become a unique educational opportunity for Boy Scouts and the public to learn about wetland plants and their benefits in contrast to drier conditions. North of the swimming pool and pocketed throughout the remaining property, we've restored about three full acres of wetlands by both treating invasive species and planting new, beneficial native species.
Flowing into Lake Sawyer are two tributaries on the property, Cunningham and Hartman Ditches. Hartman was redirected into the lake, after it had originally emptied into the Ottawa River, by installing a 3-sided culvert. Having both tributaries flowing into the lake should encourage more water movement, helping to provide oxygen to the deepened waters, benefiting fish and turtles. Both tributaries received stone work to help direct the water and lock-in new native plantings added for sediment control.
Beyond Lake Sawyer is the Ottawa River, which has been eroding the banks bordering the lake for years. The project has implemented numerous in-stream structures designed to push the highest velocity current of the river into the center of its existing channel, minimizing the impact on either side. In addition, stone toe protection was built along more than 650 feet of the banks to help prevent erosion occurring at high-flow events. The design of the protection is such that as the rock gets pushed by water, they fall in a way that's actually beneficial for the entire structure.
The project at Camp Miakonda has been a huge success so far. Over the coming year, we will be closely monitoring over 26, 000 plants, numerous stone structures, and water levels throughout the restoration area to ensure continuing success. We will also be creating educational signage that will teach visitors about all aspects of the restoration project. Without the cooperation with the Boy Scouts, our contractors Geo. Gradel and Ecological Restoration, and other community partners, this wouldn't have been nearly as successful. Thank you!