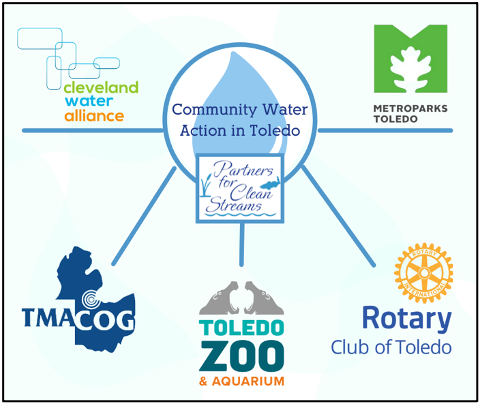 Thanks to a grant from Greater Toledo Community Foundation in 2022, Partners for Clean Streams kicked off a multi-agency program called Community Water Action in Toledo (CWAT) that will streamline volunteer monitoring water quality in our western basin of Lake Erie.
Water quality monitoring is conducted monthly between April – October, beginning in 2023. Check back for more information on getting involved with water quality monitoring in our region!
This grant allows us to connect partner organizations' (Metroparks Toledo, TMACOG, Toledo Zoo, and Toledo Rotary) water monitoring programs by sharing training resources, engaging in volunteer outreach, aligning sampling protocols and methods, and evaluating program success.
Cleveland Water Alliance is providing local partners with additional sampling equipment and guidance. CWAT is the local hub for a Lake Erie region-wide effort of the Lake Erie Volunteer Science Network, led by Cleveland Water Alliance.