Partners for Clean Streams was awarded a $1.36 million grant from the Great Lakes Restoration Initiative (GLRI) to restore stream habitat, reduce erosion, enhance wetlands, and improve upland habitat along the upper Ottawa River. The project on Camp Miakonda property will restore at least 10 acres of wetland, 30 acres of upland habitat, and 1200 linear feet of bank stabilization along the Ottawa River, directly improving Lake Erie's Western Basin. Along with the Boy Scouts of America, PCS has partnered with the Army Corps of Engineers on a Habitat Restoration Master Plan that will enhance the section of Ottawa River in Camp Miakonda. When implemented, PCS expects this restoration project on the Ottawa River to result in long‐term outcomes that will improve the Maumee River and Lake Erie habitat. Furthermore, this will bring the Maumee Area of Concern closer to delisting the Loss of Fish and Wildlife Habitat BUI (BUI #14), the Degradation of Benthos (BUI #6) and Degradation of Fish and Wildlife Populations (BUI #3). Find out more about the Maumee Area of Concern and BUIs.
Specifically, implementing these restorations will:
Significantly reduce sediment loading from eroding stream banks
Maximize the diversity of plant communities, both wetland and upland
Improve habitat for migrating waterfowl, songbirds and other wildlife
Benefit Ottawa River water quality by utilizing wetlands to capture sediments
Create more flood storage and nutrient retention capacity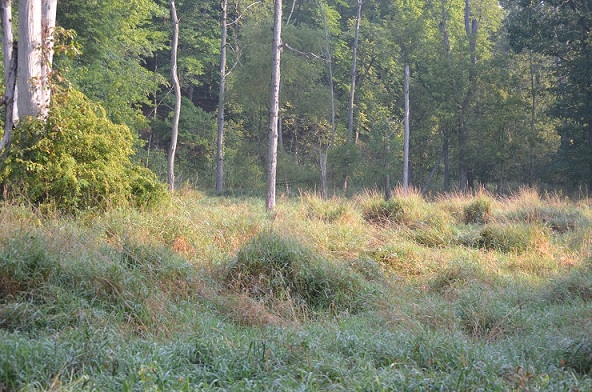 In order to get these results, Partners for Clean Streams has been deeply committed to securing the funding necessary to move the Camp Miakonda Project from the general concept plans to full implementation. This has been demonstrated by the effort PCS has already made with the Army Corps of Engineers (ACOE) to develop detailed concept plans. PCS has since taken steps to ensure the ACOE to conduct engineering studies and the design/build plans. By providing the local match necessary to bring nearly $400,000 in the ACOE's technical assistance to this project, PCS was strongly positioned to move quickly from planning to restoration in a thorough, professional, and, perhaps most importantly, scientifically valid approach. Now, with the $1.36 million awarded by U.S. EPA, PCS will be putting the Great Lakes Restoration Initiative into action where it belongs – on the ground!