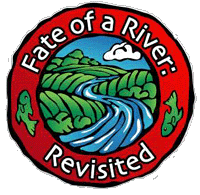 In 1965 a motivated, environmentally aware group of ladies from the Jr. League of Toledo produced a film, Fate of a River: Apathy or Action, depicting foaming detergents, raw sewage, green and blue industrial discharges, gasping fish, and algae-laden streams in the Maumee River Watershed. It was shown to more than 70,000 people in the late 1960s. This film helped citizens throughout Northwest Ohio recognize that their actions were negatively impacting local waterways and that they could take actions to reduce or eliminate this impact to restore the health of their waterways.
After 30 years, Fate of a River: Apathy or Action was rediscovered in a University of Toledo Library closet in the mid-1990s. In 2001, three local groups partnered with WGTE-TV to highlight the many water quality improvements since 1965 by creating Fate of River: Revisited (Clearwater, Inc., Maumee RAP, Ottawa River Coalition). This was the most collaborative project with the longest credit list of any show WGTE-TV had made at that time. Fate of River: Revisited first aired on WGTE TV30 (Toledo) on Nov. 21, 2002; since then it has been aired multiple times on 12 television stations in 3 states and has been seen by over 100,000 people at presentations.
Fate of a River: Revisited, looks at the many water quality improvements over the 35 years since the first film was created. It demonstrates the need for continued actions by the citizens living in this three state watershed. Particular attention is paid to impacts associated with changes in land use and non-point sources as our population increases and shifts outside of the urban centers. A goal of the Fate of a River: Revisited campaign was to generate an increased understanding of water quality issues and motivate citizens to take actions to improve the waterways.
This project was funded by the Ohio Environmental Education Fund. The film was produced for public broadcast and mass distribution. Supplemental educational materials were developed to recreate awareness and to renew the focus on the Maumee River and its tributaries. For more information about the program watch this short video clip.