Northwest Ohio is home to some of the rarest ecosystems on Earth. Thousands of years ago, glacier movements carved out our extraordinary Great Lakes. The ancient shores of Lake Erie created a landscape of momentous sand dunes and densely-forested wetlands. Before drainage projects began in the late 19thcentury, the Great Black Swamp stretched for nearly one million acres across Northwest Ohio, Southeast Michigan, and Northeast Indiana. Today, our region hosts rare wet prairie ecosystems, vernal pools, coastal wetlands, and sand dunes that seem to rise mysteriously out of forests and fields. This unique landscape sets the stage for incredible biodiversity to take root in Northwest Ohio. Lucas County boasts more rare and endangered species than any other county in Ohio. (Source: Ohio Department of Natural Resources)
Clean, clear, and safe water forms the nexus for this network of life. Our waterways are home to hundreds of species of plants and animals, and serve as highways for many more. Abundant fresh water is a resource we shouldn't take for granted. At Partners for Clean Streams, we love to walk alongside our rivers, boat on them, fish in them, and of course, drink the fresh water they provide. Every day and in many ways, our connection to our waterways runs deep.
Let's dive into the Lake Erie tributaries that make up our region's lifelines.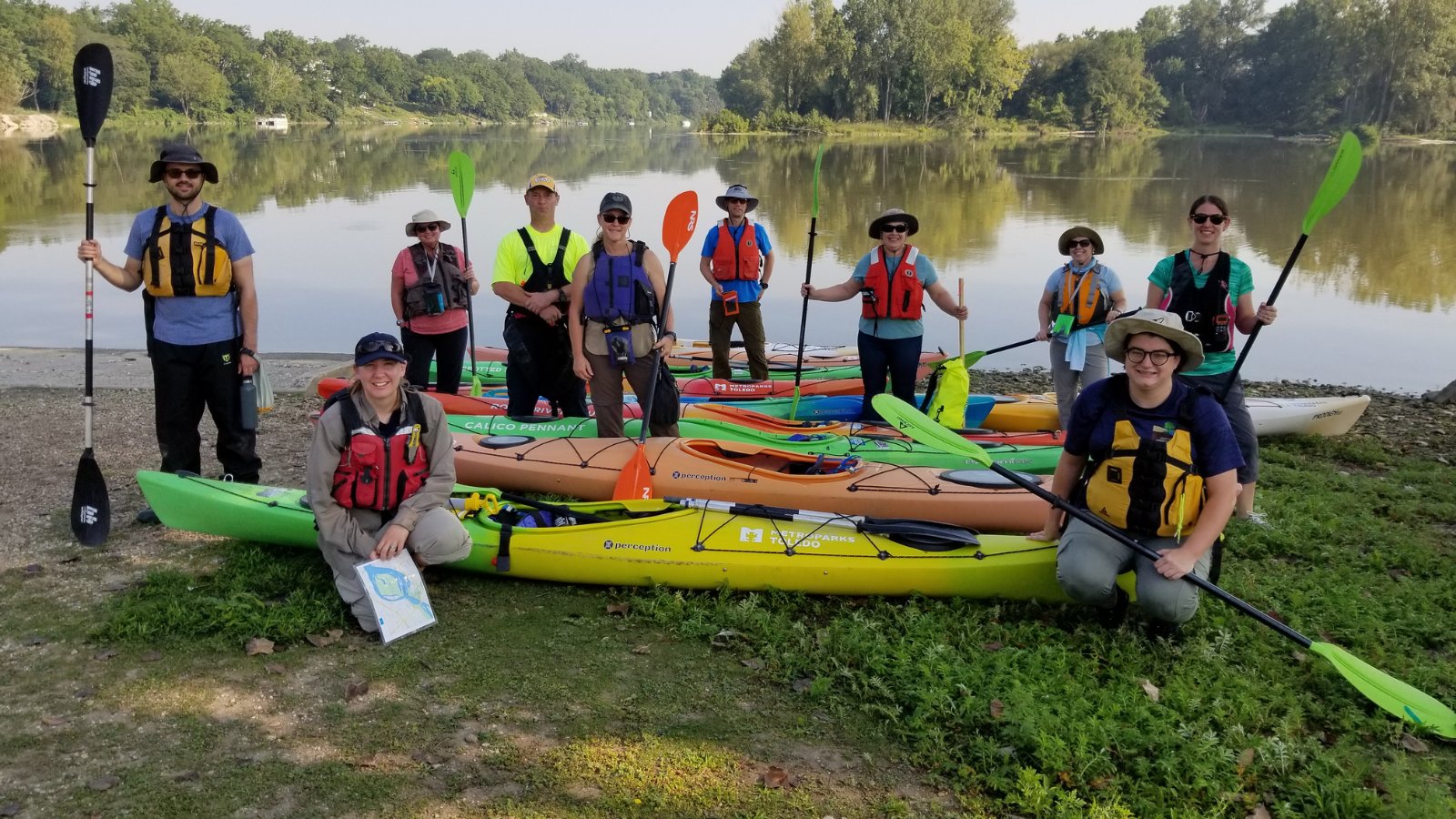 ---
Ottawa River/Frontal-Lake Erie

Subwatersheds: Ottawa River, Tenmile Creek, Prairie Ditch, Heldman Ditch, Sibley Creek, Shantee Creek, Detwiler Ditch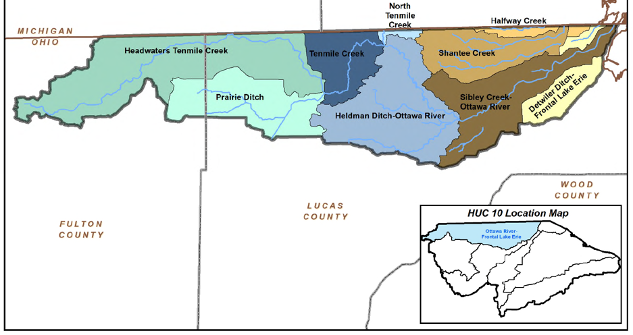 Area: 236 square miles total in the Ottawa River watershed. The Ottawa River is about 20 miles long.
Overview: The Ottawa River's waters flow from Sylvania in the west through Ottawa Hills and Toledo neighborhoods, and empty into Lake Erie in the Point Place neighborhood of Toledo, Ohio.
The headwaters of the Ottawa River (called Tenmile Creek) are located within the Oak Openings region, a globally rare ecosystem that includes glacial-formed sand dunes, grassland prairie, and oak savannah. The area around the mouth of the Ottawa River is heavily industrial, but also includes some historical wetland remnants. Due to industrial, sewage, and landfill runoff, as well as the slow-flowing nature of the river, the Ottawa River was a focus of water quality concerns beginning in the 1980s. In the past two decades, great strides have been made to improve water quality, including the removal of contaminated sediment and reduction of combined sewage overflows into the river. In 2017, Ohio EPA began to allow limited consumption of fish caught in the Ottawa River, and in 2018, the no-contact advisory for the lower 8.8 miles of the Ottawa River was lifted.
PCS Program Spotlight: The first Clean Your Streams Day in 1997 included five Ottawa River sites. Although Clean Your Streams today includes sites all around our region, some of our biggest longstanding kickoffs are still held within this watershed, including the University of Toledo Kickoff and the Monroe Street UMC Kickoff.
Restoration Project Spotlight: Contaminated Sediment Removal on the Ottawa River
Explore the Watershed: Harroun Community Park, Wildwood Preserve Metropark, Ottawa Park, Manhattan Marsh Preserve Metropark
Further Resources:
---
Maumee River

Subwatersheds: Lower Maumee River, Grassy Creek, Delaware Creek, Crooked Creek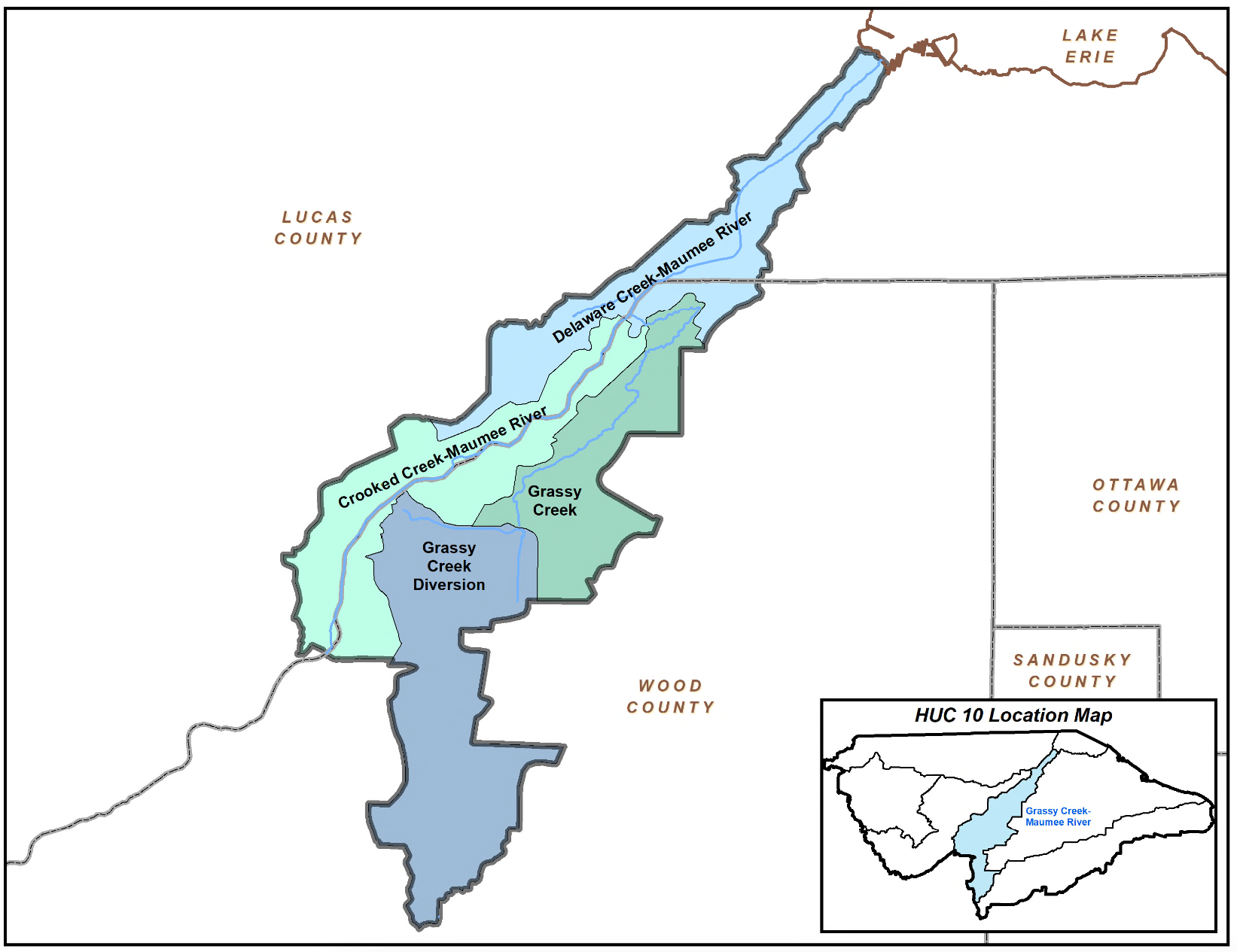 Area: 8,316 square miles total in the Maumee River watershed, 787 square miles in the Maumee Area of Concern. The Maumee River is about 137 miles long, and is fed by over 3,900 miles of smaller rivers, creeks and ditches.
Overview: The Maumee River begins in Fort Wayne, Indiana and after a long interstate journey, empties into Lake Erie's Maumee Bay in Toledo, Ohio. The Maumee has the largest watershed of any Great Lakes river, with 8,316 square miles draining counties in Indiana, Ohio, and Michigan.
The upper reaches of the Maumee River are designated as a State Scenic River and are popular for kayaking and fishing. The spring walleye run draws anglers from across the nation. The lower Maumee River has been the home of centuries of transportation, agriculture, and industry. The river is a major corridor for freight entering and leaving the Port of Toledo. Due to concerns that too much industrial and waste water contaminants had been discharged into the lower portion of the river, the lower Maumee and surrounding watersheds were federally designated as an Area of Concern in 1987, prompting the foundation of the Maumee Remedial Action Plan (RAP), which later evolved into the Maumee Area of Concern Committee (MAAC) with Partners for Clean Streams as its facilitating organization. Today, projects in the lower Maumee River focused on fish and wildlife habitat restoration contribute to a healthier river for both animals and humans.
PCS Program Spotlight: Our summertime waterway clean-up program Get the Lead Out focuses on removing discarded fishing line, lead sinkers, lures, and other debris that gets left behind after the spring fishing runs in the Maumee River.
Restoration Project Spotlight: Maumee River Habitat Restoration at Penn7
Explore the watershed: Providence Metropark, Fort Meigs Historic Site, Audubon Islands State Nature Preserve, Glass City Metropark
Further resources:
---
Swan Creek
Subwatersheds: Swan Creek, Ai Creek, Gale Run, Fewless Creek, Wolf Creek, Heilman Ditch, Blue Creek
Area: 205 square miles. Swan Creek is about 40 miles long, and is fed by over 200 miles of creeks and ditches.
Overview: Swan Creek's headwaters are in Fulton County, northwest of Swanton, Ohio. Its tributaries take winding routes through rural towns and agricultural fields, past nature preserves showcasing rare Oak Openings habitats, and into the southwest portion of the City of Toledo, where it drains into the Maumee River at a confluence of rivers downtown called the Middlegrounds. This watershed is mostly rural and surrounded by row crops in its headwaters, and flows into developed land with increasing density as it runs toward the Maumee River.
One major challenge biggest challenges facing Swan Creek and many of its tributaries is streambank erosion. Banks erode more quickly due to channelization (artificially straightening streams) and lack of vegetation to hold sediment in place, and excess eroded sediment is a major source of stream pollution in this waterway. Restoration efforts in this watershed focus on protecting and restoring wetlands that filter agricultural runoff and trap sediment.
PCS Program Spotlight: Although our volunteers undertake storm drain marking, spreading the message that storm drains are only for rain, across multiple watersheds, our longstanding partnerships with Lucas County Engineers and the City of Toledo have given our volunteers many opportunities to educate neighborhoods in in the Swan Creek watershed.
Restoration Project Spotlight: Sandhill Crane Wetlands
Explore the Watershed: Swan Creek Preserve Metropark, Kitty Todd Nature Preserve, Oak Openings Preserve Metropark, Maumee State Forest
---
Lake Erie Tributaries East of the Maumee
Subwatersheds: Cedar Creek, Crane Creek, Otter Creek, Turtle Creek, Wolf Creek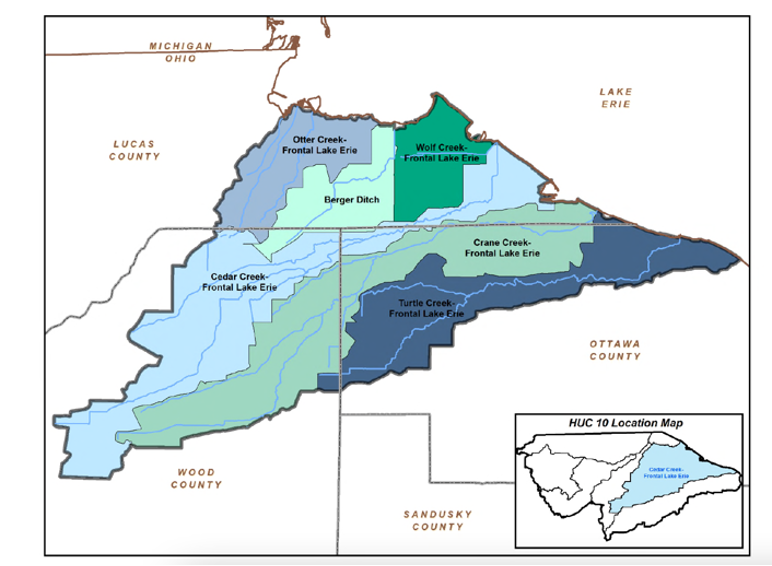 Area: 207.22 square miles. The longest river in this subwatershed is Crane Creek, which runs for 29.9 river miles and is joined by three tributaries (Henry Creek, Little Crane Creek, and Ayers Creek) before it drains into Lake Erie.
Overview: These watersheds are made of a collection of smaller creeks and rivers flowing into Maumee Bay and Lake Erie. These waterways stretches from East Toledo, eastward through Oregon and through several smaller communities in Ottawa County. The area is mostly rural and agricultural, except in the northwest around the Otter Creek subwatershed, which is urban and industrial. Other notable landmarks in this watershed include Owens Community College, Metcalf Field (airport), and the Interstate-280 (I-280) and Ohio Turnpike Interchange.
The watershed encompasses multiple important protected wetland areas, including Maumee Bay State Park, Cedar Point National Wildlife Refuge, Magee Marsh Wildlife Area, and Ottawa National Wildlife Refuge. This watershed is a critical stopover for migrating birds. Every May, birdwatchers flock to these Lake Erie shores annually to participate in the Biggest Week in American Birding to spot rare warblers.
PCS Program Spotlight: Clean Your Streams 365. This program is a year-round effort for clearer, cleaner waterways. Volunteers choose a time and location to remove marine debris. PCS will provide all clean-up supplies, including gloves, trash bags, grabbers, and data cards. While this program operates all across our region, sites in this watershed are great candidates for small group clean-ups; Clean Your Streams Day volunteers typically do not tackle sites east of Oregon, so waterways in this area could use some extra volunteer attention.
Restoration Project Spotlight: Otter Creek Contaminated Sediment Removal
Explore the Watershed: Ottawa National Wildlife Refuge, Maumee Bay State Park, Howard Marsh Metropark, Magee Marsh Wildlife Area
---
More Ohio Waterway Resources
Nonpoint Source Implementation Strategies for Ohio Waterways (linked to Ohio EPA)

These plans detail water quality concerns on a watershed-to-watershed basis and are used to propose projects and implement solutions to water issues. A NPS-IS is a living strategic planning document that summarizes causes and sources of impairment, established critical areas, identifies quantifiable objectives to address causes and sources of impairment, and describes projects designed to meet those objectives.
Ohio Coastal Atlas (linked to Ohio Department of Natural Resources)

The Ohio Coastal Atlas illustrates and discusses many of Lake Erie's historical, cultural, physical and natural resources using colorful maps and descriptive text. It features detailed information on the Lake Erie Watershed; Lake Erie's role Ohio's history; land uses, including protected lands, outdoor recreation and public access; Lake Erie's ecosystem and habitat types, and much more.
How's My Waterway (linked to U.S. EPA)

This map tool was designed to provide the general public with information about the condition of their local waters based on data that states, federal, tribal, local agencies and others have provided to EPA.