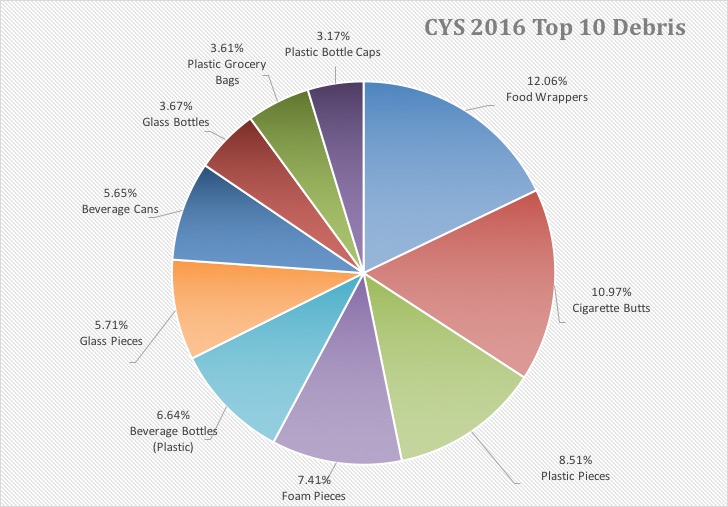 At the 2016 Clean Your Streams Day, 960 volunteers collected over 26,000 pounds of trash along 31 miles of river bank right here in Northwest Ohio. During this event, volunteers took the time and extra effort necessary to track and document the different types of trash they were finding as the went along. With this information, Partners for Clean Streams is better able to educate people in the area about the effects of marine debris and to target future cleanups by identifying trouble areas.
The list of top ten items found across our cleanup sites demonstrates that a significant amount of trash comes from single use products. This includes items such as food wrappers, cigarette butts, plastic bottles, plastic bags, disposable cups and plates, and aluminum beverage cans. Individuals can have a huge impact on reducing the amount of these types of waste by making conscious efforts to avoid using products that contain these materials. Some of the easiest ways to reduce your footprint are to use reusable water bottles instead of plastic one time use bottles and by utilizing reusable grocery bags instead of disposable plastic grocery bags. Another great way to reduce food packaging is to buy food from the bulk sections of local stores, such as Phoenix Earth Food Co-Op, The Fresh Market and Kroger.
During Clean Your Streams, volunteers find many other unique items that tell a different story about marine debris. Unique and strange items found in 2016 included; a buffet food tray, a skateboard, a "Sidewalk Closed" sign, an exhaust pipe, a fire ring, a baby stroller, a hot tub lid, a football helmet, and a shoe with a plant growing in it! It is important to find the appropriate ways of how to dispose of unusual items such as these. Many municipalities and cities hold special trash days where people can dispose of large amounts of trash or larger items. Stores such as Best Buy can recycle most electronics and Lucas County provides a number of opportunities for trash disposal, with more information on their website.
We look forward to Clean Your Streams Day each year because of the positive impact it has on the environment and our waterways, but also on the volunteers as they witness the sheer amount of marine debris that accumulates in our rivers. By pulling trash from our local waterways, volunteers get a first-hand view at how much work and effort it takes to keep a river clean and healthy. Partners for Clean Streams goal is to never have to do a cleanup again because that will mean that there is no longer any debris in our waterways. Until that day, we hope you will join us in preventing marine debris from accumulating, cleaning up our rivers and streams, and helping us keep them clean, clear and safe for everyone!
*The top 10 items found during CYS day represent 67.4% of the trash picked up during the event.