The greater Toledo area is blessed with extraordinary rivers, creeks, and lakes. We rely on these waters for recreation, drinking, and for so much of what provides the high quality of life that we enjoy. From the tiniest creeks to the wide bends of the Maumee, these waters have shaped the identity, family traditions, and landscape of our region. These waters connect us to each other through shared memories and experiences. At some point between skipping rocks and watching clouds along a riverbank, the Toledo-area waterways become an unconscious-but integral- part of our lives. Join Partners for Clean Streams in celebrating our creeks, streams, and rivers that connect us all. Love your rivers!
Your safety is, as always, our priority. We've updated some of our programs to maximize your safety during this time check them out here.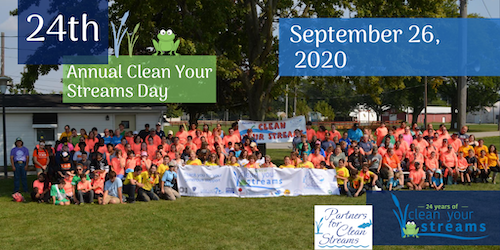 Join us in celebrating the 24th year of Clean Your Streams Day and participate in a Northwest Ohio stream cleanup tradition! Over the course of the last 23 years, 13,976 volunteers have taken ownership of their waterways and made a difference in their community by cleaning up designated stream sites each Clean Your Streams Day. Mark your calendars for September 26, 2020, and be sure to follow our social media accounts for more details or any changes to adapt to COVID-19. For information on this event and past events click here
Many thanks to all of our coordinators, volunteers, sponsors, and donors. This is definitely a group effort, and thanks to all of you, our streams are cleaner, clearer, and safer!