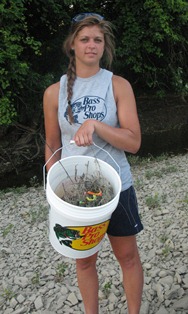 The "weight" is over. Get the Lead Out is back and better than ever! Join us by removing derelict fishing gear from the Maumee River this summer. We have over three miles of the Maumee River between Perrysburg and Maumee to cover and remove fishing line, lead, lures, and hooksthat have been left behind bythe anglers. Just last year, PCS volunteers collected 41 pounds of lead sinkers from this 3-mile stretch of river. Groups have already signed up for this volunteer program.
During Get the Lead Out, groups or individuals go out into the Maumee River starting in early June (water level dependent) through August.Everyone is welcome! Bring friends, family, kids, significant others, co-workers, cousins, aunts, uncles, and neighbors. Plan to walk in the Maumee River, along its banks, over logs, through tall grasses, and over rocks collecting lead, line, and trash that have gotten snagged on rocks, branches, and grass. PCS will be planning for large group and staff organized outings in June, July, and August. These events are open to everyone; all experience levels welcome. But you don't have to wait for one of our outings. Sign your group or family/friends team up for a personalized time that works for you.
Not only do we remove the lead and line, but the material also gets recycled. All collected lead will be reused by ZAP Lures, while the collected fishing line will be recycled with Berkley Fishing and Bass Pro Shops. If you independently collect fishing line or lead and would like it to be recycled, we are happy to process and recycle it for you.
For more information, check out the Get the Lead Out webpage. To get started, sign up your group with Ava at This email address is being protected from spambots. You need JavaScript enabled to view it. or by calling 419-874-0727.