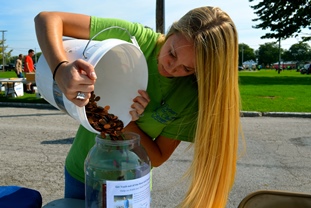 Partners for Clean Streams is dedicated to the waterways of the greater Toledo area, but we depend on your support. So we started a challenge to everyone who enjoys our local rivers. We want to know – Can your group, business, or family bring and create the most change for clean water?
Every year, hundreds of Partners for Clean Streams volunteers take to the waters and remove the garbage that doesn't belong there. In 2014 alone, volunteers removed almost 17,000 pounds of trash on Clean Your Streams Day. That was just on one day! Believe it or not, we are starting to plan for this year's 19th Annual Clean Your Streams on September 19th 2015. (So save the Date!) But we need your help for this year and years to come.
We challenge each group that participates in this year's Clean Your Streams event to pool dimes, nickels, quarters and pennies. Search under sofa cushions! Raid piggy banks! Empty car cupholders! Set out a jar in the office! Start collecting change now!
Bring your Change with you to the Appreciation Picnic AFTER the Clean Your Streams cleanup. Each group's collective Change for Change will be weighed and recorded. The group with the heaviest Change wins the Challenge and will receive a Mystery Award!
To get the Change collection started, tape our half sheet to a jar and set it in your office, break room or counter or pass it around at scout or church meetings. Get started with your Change for Change Flyer. Your loose change can add up to make a lot of Change for our local rivers! Stay tuned for more Clean Your Streams details.