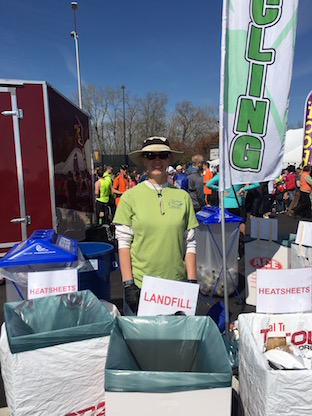 Whether you are running the race, cheering on the sidelines, volunteering, or spectating along the route, you can be an honorary member of the Mercy Health Glass City Marathon Green Team. Continue reading to find out how you can help!
At the start line, recognize where trash bins are located and properly dispose of your pre-race snack wrappers, water bottles, energy bars, coffee cups, energy drinks, and all other waste. At the water-stops along the race, listen to the volunteers as they give you water, food, or energy packs and kindly give them back to the volunteers or throw them in their general area for ease of collection. If you eat an energy pack, or other energy supplement, while running, hold onto the wrapper until the next water stop instead of throwing it on the ground.
Once you have crossed the finish line (congrats!), you will enter the post-race party where there will be food, beverages, medical attention, and a place to sit. There will also be several waste pods throughout the lot, with recycle, compost, and landfill bins. At each pod will be a volunteer to help you properly dispose of your waste. You can expect: food waste, paper plates, and napkins to be composted; plastic cups, water bottles, heatsheets, and plastic bags to be recycled; and plastic silverware, aluminum cans, styrofoam cups, and miscellaneous plastics items to be thrown away.
Once you have properly disposed of your waste, please help those around you do the same. This is a collective effort – the more each of us does on race day, the more trash we can divert from the landfill and the happier our Earth will be.
We, at Partners for Clean Streams and on behalf of the Mercy Health Glass City Marathon planning team, thank you for your cooperation and support with these efforts. We also especially thank the University of Toledo for all their assistance this year. The environment provides us a place to run and water gives us the endurance to finish the race – it's time that we say thank you by reducing our impact. If you would like to endorse our partnership with the Marathon and support our efforts throughout the community, we invite you to donate to PCS through the Marathon's website. See you on race day!