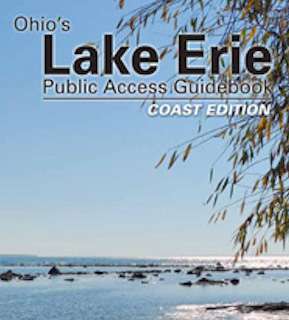 Are you a swimmer, kayaker, fisher, or just someone who enjoys being out on the water? Living in this region, we are lucky to have access to a plethora of waterways, including coasts, rivers, and streams. Often, we do not utilize the resources around us, including the unique Maumee watershed. Many people in our community are unaware of where to go to enjoy our natural resources. For those who are interested in trying out new activities, there is a guide book that lists what is available and where to go.
The ODNR has published a comprehensive book of all the Lake Erie public access sites. There are over 169 coastal that are free to the public along the coast line. If you are interested in enjoying the regions' rivers, there are over 870 field-checked miles with 220 access points. Some of the features of the access points include: nature centers, birding trails, hiking trails, camping, and recreational activities. Some sites even offer horse riding trails and activities such as archery, arts and crafts, and wildlife exhibits. Each access point on the ODNR website indicates what is available at each location.
Lake Erie is truly a paddler's paradise with historical, ecological, and cultural significance. Kayaking has become an increasingly popular hobby and our region has many access points and boat launches. Many sites also offer day-time rentals for paddleboats, canoes, and kayaks. Fishing and swimming are permissible at many locations along the coast. Recreation of all kinds is available at these sites, so no matter what your interest, this is a great resource.
To get more information on local access points, head to the ODNR's website. We also have printed guides to Lake Erie's public access locations (coastal and rivers) available for free at our office. Stop in today to get your copy and be a tourist in your own town!