We are looking for a motivated, passionate individual to join our team as the Communication and Outreach Specialist, likely starting early to mid-June. The Communication and Outreach Specialist (COS) is responsible for assisting the Executive Director with PCS's efforts to build and maintain strong and effective working relationships with federal, state, and local governments, the environmental community, and area citizens through communication and outreach, event promotion, media relations, and maintaining our websites and social media platforms. The COS will also lead the successful promotion and multi-media outreach of our established volunteer events, lead outreach at booths, fairs, and other non-traditional education opportunities, and work with media relations, grant writing, and fundraising efforts. For more information about the position, please download the job description. To apply, please send a cover letter, resume, references, and other supporting materials to This email address is being protected from spambots. You need JavaScript enabled to view it.. Applications are due by noon on May 22nd, 2017, or until the position is filled. Questions? Call or email us!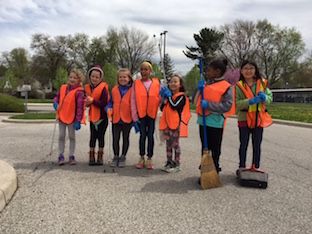 Thank you to the 12 volunteers who participated in Storm Drain Marking on April 22, to celebrate Earth Day and Global Youth Service Day! Brownie Troop 11663 marked 9 storm drains in West Toledo with medallions and distributed 125 informational flyers to residents of that neighborhood. The youth volunteers also removed and cleared all leaves and yard debris from the storm drains they marked. The goal of this program is to spread awareness about the purpose and importance of storm drains, and why it is critical that only rainwater enters these drains. A good rule of thumb is if you wouldn't drink it don't pour it, as most storm drains lead directly to the nearest waterway, untreated. Good maintenance practices for your neighborhood storm drains include keeping drain free of debris like leaves and lawn clippings; being mindful of fertilizer and pesticide use on your property as the excess can run off and enter the storm drain; and checking your nearest storm drain before a rain event to ensure it is not clogged or blocked which can cause flooding. For more tips, check out the Toledo Lake Erie Clear Choices Clean Water website and take a pledge to keep your neighborhood storm drain debris-free! Also, consider registering a group for Storm Drain Marking this summer to have a real impact on our local water quality! Contact our office if interested.
Mark your calendars for the 22nd Annual Clean Your Streams Day on September 22nd, 2018! Join us from 8:30-12:00pm to clean up local rivers and streams all around northwest Ohio. After the cleanup, we invite our volunteers to an Appreciation Picnic where we provide food, door prizes, challenge winners, and the coveted CYS t-shirt! The kick-off locations that we are currently planning for include The University of Toledo, Monroe St. United Methodist Church, Olander Park, Oregon Municipal Building, Middlegrounds Metropark, Side Cut Metropark and Three Meadows Pond in Perrysburg. We also offer friendly competitions between our youth, collegiate, and corporate volunteer groups. Event sponsors are needed now and will receive a lot of public recognition. Registration will open in early August; check our CYS webpage for any new information about the cleanup. Lastly, please share with your family, friends, and coworkers! We hope you join us for this year's Clean Your Streams Day!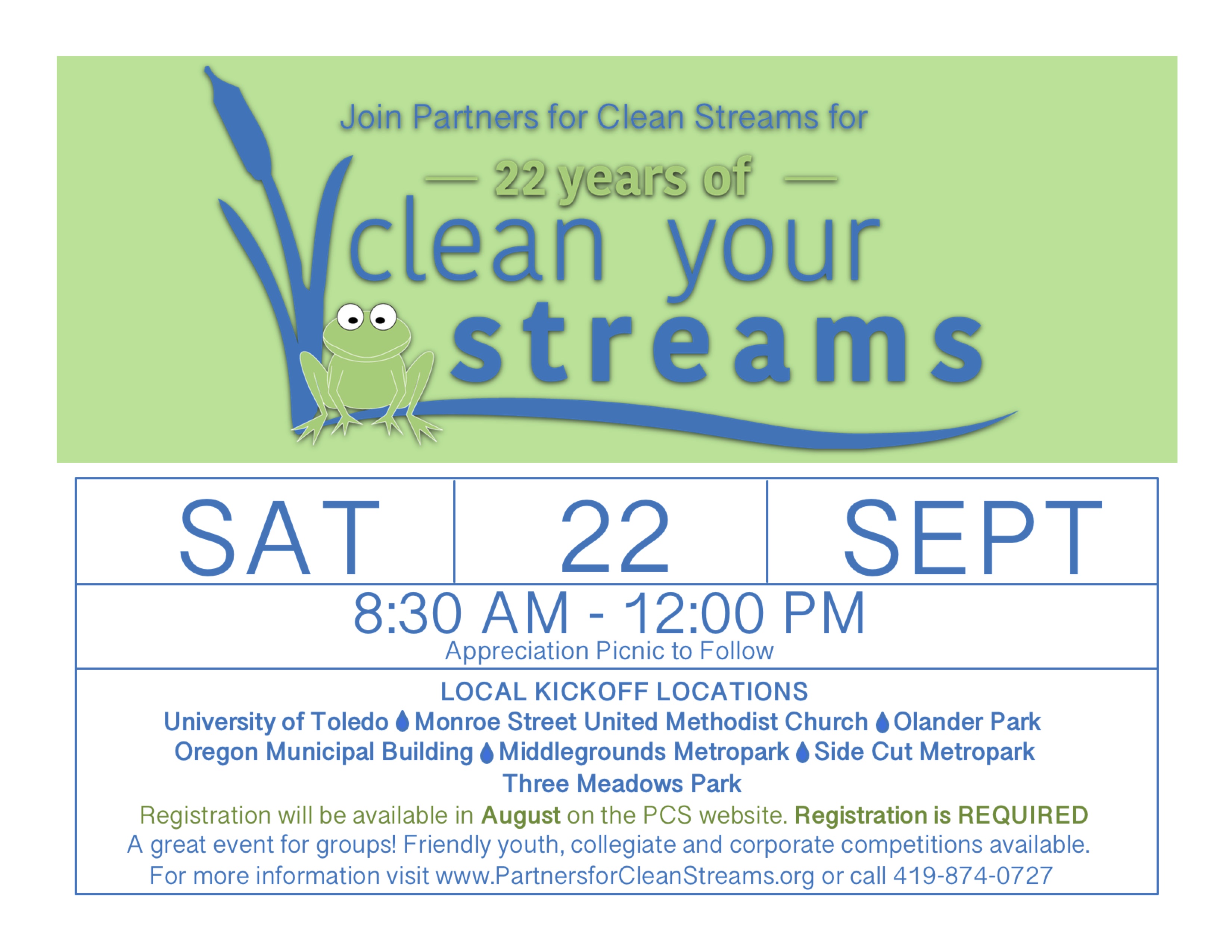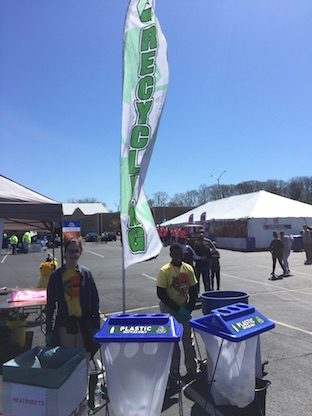 For the second year, Partners for Clean Streams was an official charity partner of the 41st Mercy Health Glass City Marathon and the facilitating organization for the sustainability taskforce. Sunday, April 23rd 2017 was another beautiful spring day for the over 8,000 runners who blazed the race routes across Toledo. Much like last year, PCS staff, Board Members, and volunteers worked diligently on the University of Toledo's campus to guide runners to properly dispose of their recyclable and compostable materials. We also worked "behind-the-scenes" leading up to the event to help the organizers plan for bulk cardboard, glass, and waste disposal. Our partnership with the Glass City Marathon is a unique opportunity for us to have a positive impact on our community and waterways. The Glass City Marathon is inherently connected to water. The course crosses the Ottawa River several times and runners depend on water for endurance and rejuvenation. We are excited to assist with the Marathon's sustainability plan because if there is less trash left on the roads or ground after the race, there is less entering storm drains or ditches.
This year, our 20 volunteers and members of the Goodwill Janitorial staff were able to divert approximately 800lbs of glass, 1,800lbs of cardboard, 40lbs of plastic overwrap and heat sheets, and 50lbs of plastic cups/bottles. All of this material was absorbed by the University of Toledo's waste management and recycled. We also collected 25lb of energy packs, such as Gu Packs, that will be sent to Terracycle. In addition, a 20 yard dumpster was 2/3 full of compostable materials, such as food waste and paper products, that was delivered to Hirzel Farms in Luckey Ohio. Also, 2 vinyl banners that would have otherwise been thrown away, were sent to Impact with Hope to be used as temporary windows or siding for disaster recovery. And at the end of the day, the entire Marathon event only produced enough landfill waste to fill a 20 yard dumpster, a dramatic change from past events. The rest was either composted or recycled. Partners for Clean Streams greatly appreciates this partnership with Toledo Roadrunners and the Glass City Marathon, as it benefits all those involved and the local community. We would also like to thank the University of Toledo, Hirzel Farms, Republic Waste, and Terracycle, as well as all our volunteers and the Goodwill Janitorial staff. We couldn't have made this great of an impact without you!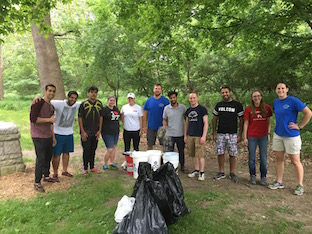 Summer will be here before we know it and you know what that means? It's time for PCS's summer volunteer opportunities!! Two great ways that you can get involved with PCS this summer is through our annual programs, Get the Lead Out and Clean Your Streams 365.
The water levels of the Maumee River are lowering, slowly, and the walleye have made their runs. That means that soon we can wander along the banks of the Maumee looking for left-behind lead and fishing line. Get the Lead Out is an annual program that is great for volunteers of all ages and can be done throughout the summer season. Check our website's calendar for dates and details on upcoming GLO events along the Maumee River. Contact our office if interested in learning more or scheduling your own Get the Lead Out event for your group!
Another summer volunteering opportunity is Clean Your Streams 365, which is an extension of our annual Clean Your Streams Day that occurs every September. In an effort to give more power to the public to reduce marine debris locally and because our rivers collect trash year-round, we decided they should be cleaned 365 days a year (except, of course, when the river is flooded or frozen!). Clean Your Streams 365 allows groups of any size, age, and/or ability level to directly improve rivers by working in streams and along the bank. Upon registration, volunteers will be assigned a location to clean depending on their skills, preference, and cleanup needs. We loan out a supply kit complete with cleanup supplies, First Aid kits, data collection reporting forms, and detailed instructions. Date and time depends on weather, water levels of the river, and group preferences. This way, we can give water a hand virtually 365 days a year! For information or to register a group, check out our website.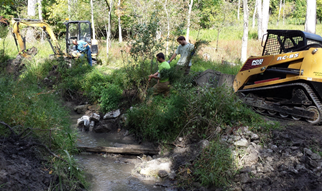 This year, Camp Miakonda turns 100 and a much-deserved celebration is planned for May 20 at Camp. We have a proud history with Camp Miakonda and Erie Shores Council, one that has led to a lasting partnership. Partners for Clean Streams led a habitat restoration project along the banks of the upper Ottawa River (aka 10-Mile Creek) at Camp Miakonda. The Great Lakes Restoration Initiative (GLRI) funded the million-dollar project, which began in 2013. The project restored stream habitat, reduced erosion, enhanced wetlands, deepened and revitalized Lake Sawyer, and improved upland habitat along the Ottawa River, which directly improved Lake Erie's western basin. PCS also installed eight educational signs around the project area in Camp Miakonda that shared with visitors the historical significance of Miakonda, the native wildlife that can be found, and hands-on activities for scouts to do. We've equipped the summer camp educators with fun kits to explore macro-invertebrates and learn about water quality. The project we did with Camp Miakonda is something we take pride in, as it was a great success. We are very happy for Camp Miakonda in celebrating 100 years of educational enrichment for Scouts and wish it 100 more! We'll be on hand to give tours and help celebrate the opening of the brand new nature & wildlife educational center at camp. Come out and join us.