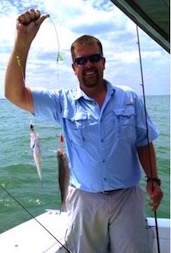 Bob Neubert has been with the Office of the Lucas County Engineers since 1999 and works in the Drainage Department. His is a certified Floodplain Manager, Engineering Technician, and Surveying Technician. He graduated with an Associates Degree in Civil Engineering from Owens Community College. He lives with his wife and two children in South Toledo. He is very active with the Boy Scouts and has been a Volunteer Boy Scout Leader since 2003. His work with the Scouts has been closely tied to PCS through 8 years of Clean Your Streams Day and constructing 20 fishing line recycling bins this past summer. We look forward to his partnership with us as a Board Member.
Bill Hoefflin is the Senior Program Naturalist for Wood County Parks. He has been a Park Naturalist since 2004, having worked for Ohio State Parks, Toledo Metroparks, and currently Wood County Parks. He has an Associates of Applied Science from Hocking College in Wildlife Management. He lives in eastern Lucas County with his wife and three kids. He enjoys hunting, fishing, woodworking, camping, paddle sports, archery, and gardening. He is a certified instructor for canoeing, kayaking, stand up paddleboarding, archery, and fishing, as well as a Boy Scout Merit Badge Counselor. His expertise in all things outdoors will be an asset to our Board.
We would also like to thank Deanna Bobak and Colleen Dooley for their service. They have stepped down as active Board Members and we appreciate all they have done for Partners for Clean Streams.