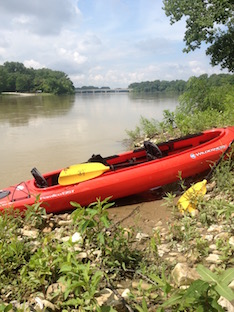 Last month, the Maumee River Water Trail was officially dedicated by the Toledo Metroparks. This 107-mile trail stretches from the mouth of Lake Erie to the Indiana-Ohio border with 39 different access points. Paddlers in Northwest Ohio now have the opportunity to explore several state parks, local parks, Metroparks, and wildlife areas within one connected water trail. A detailed map with stream access points can be viewed here.
State and local agencies have been collaborating to create consistent signage, paddling resources, and safety precautions along the Maumee River. This year we are celebrating the 50th Anniversary of Ohio's Scenic Rivers Act and what better way to acknowledge this milestone than making the Mighty Maumee accessible to all!
The ODNR is encouraging paddlers to explore Ohio's waterways, especially the Maumee, with their Paddle Ohio program. You can earn a Paddle Ohio Pin by paddling four eligible waterways and submitting your forms either through mail or online. PCS is excited to be out on the water this summer through our paddling partnerships with Wood County Parks system and having an informational table at Paddle Palooza July 8th at Maumee Bay State Park.
With so many opportunities to get out on the water this summer, it is important that safety remain a top priority for all paddlers. Follow these guidelines for proper paddling and water recreation:
never boat alone
plan your course – determine your route before you go out and make sure you have a map with you
be weather-wise – if you wouldn't swim in current weather conditions, wait to watercraft
always wear a life jacket that fits properly!
have a float plan – let someone know your expected route and when you should be arriving at your destination
bring water and emergency supplies
point your boat to the wake to avoid capsizing
be aware of other boaters
take a watercraft course – many of these are provided free of charge through Metroparks or your municipalities' parks department
carry a spare paddle
We are excited that so many people are taking advantage of the excellent paddling and watercraft opportunities available in Northwest Ohio. If you don't have your own kayak, you can rent one through River Lures. River Lures has kayak rental locations at Farnsworth and Middlegrounds Metropark and a retail & rental shop in Grand Rapids. Check out their website for more information. Kayaking is a great way to gain appreciation for our unique waterways in Northwest Ohio and have fun on the water. The Maumee River Water Trail actualizes the community's desire to enjoy the outdoors and connect with our waterways. Please paddle safely this summer and be good stewards of our recreational water resources.